Phil Allen
Apprentice 1971-5: the Boiler Yard, having your palm read in the Pipe Shop, becoming groundsman at Hempsted, & more...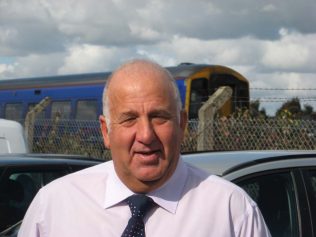 After leaving Longlevens secondary school in 1971, I started work at the Atlas Works in September of the same year with the aspirations of being an engineer, following in my father's (Fred Allen) footsteps. He had worked at Fielding's for most of his working life as had my mother (Kath). My younger brother (Nigel) also followed us into the firm later as an apprentice.
When left school, I actually wanted to be a train driver, but more on that dream later.
The runaway bike
The big day arrived and, with a lot of apprehension, I walked through the big gates at the Southgate Street entrance. I was amazed how big the place was and remember seeing lots of men dashing to clock in before the deadline of 7.30 am passed.
"He dismounted the bike whilst it was still moving at great speed and just left it heading for the big roller doors that were near the time office."
I remember once witnessing a man arriving close to the deadline time whilst riding a push bike. He actually dismounted the bike whilst it was still moving at great speed and just left it heading for the big roller doors that were near the time office.
Luckily some brave sole managed to stop and catch the runaway bike before it hit the metal doors. The man then appeared from the clock-in board with a big grin on his face as he had managed to beat the clock by seconds. A round of applause broke out from the other men.
Bloodied hands and knuckles
I along with nineteen other young lads were ushered up to the apprentice training school on the third floor which was to be our workplace for the next twelve months.
There we met our instructors Barry Degge and Roy Breach, plus Ron Wilmott who I think was the apprentice manager. After a few days sitting through many safety films, engineering lectures, and talks etc we were split into two groups: one was let loose on the different types of machines that there were in the school, and the other half had to start on the "Block"!
Anybody who did the apprenticeship course at Fielding's will remember the metal Block – not with fondest memory but with bloodied hands and knuckles from the constant missing of the chisel with a heavy hammer. We were supposed to chisel out a set thickness of metal off the block and then file and scrape it so it was perfectly flat. Why we had to endure this torture was beyond me as I thought that was what the machines we were being taught to use were for!!
Wolves
For the next twelve months or so we all were trained on many different workplace procedures. In addition, we had a long day once a week at the local technical college and also, much to my annoyance, a Tuesday evening class.
This was a great inconvenience to me during the 1970s as I was following Wolverhampton Wanderers football club all over the country at the time and their midweek games always seemed to fall on a Tuesday night. I did manage to wangle a few Tuesday nights off due to "very bad sickness" that always seemed to happen on a Tuesday… but I was soon rumbled and was summoned to Ron Wilmott's office for a warning.
Welding and Fabrication
After many months it was time for me and all my apprentice mates to be placed into the final training programme for which we were to specialize and ultimately be let loose onto the factory shop floor. My chosen subject was to be in Welding and Fabrication. Why I was chosen for that I have no idea. So it was off to the Boiler Yard, along with Gordon Tozer, a fellow first year apprentice.
We were met by the supervisor Bill Ashmore who I remember being a nice man who always had time to help and advise you as an apprentice, unlike a few others I came across. Gordon and I were both placed under the wings of different men to learn our trade. Who it was depended on who was on the day shift and also on who could be bothered to help us learn.
Certain men flatly refused to let the "boy" work with them, saying "it's not in my contract to teach". My first recollection of being taught was by a man called Geoffrey Heaven, who was a very large man with hands like shovels and a grip to match! He took great delight in causing us great pain if you played up by grabbing one arm and squeezing it until you squealed in pain and begged for mercy. I was told by another man "if he hurts you again just kick him in the leg and runaway as he can't run" – great advice… except he failed to tell me that Geoffrey had a false metal leg!
A long weight…
Anybody who reads this will remember that young apprentices were the butt of many jokes and pranks, which at the time we were all too ready to believe and fall for. I can remember being sent to the stores for "a long weight – 5, 10 or a 15"… little did I know it transpired that the numbers weren't weights but the wait in minutes. A left-handed screwdriver, elbow grease, and a bucket of cold steam, were other the other things often sent for!
Having my palm read
I also remember being told that I must have my palm read by somebody in the Pipe Shop to see what my future held. The man duly arrived for my reading and after grabbing my hand with his he duly placed a great big dollop of red paint in the palm of my hand much to the amusement of a gathering crowd – my palm had been duly RED!
Horse-hair goes up in flames
I was also on the wrong end of a prank when I was entrusted to weld up the broken brackets of the Fitting Shop foreman's large chair.
Welding merrily away, eager to please the foreman and repair his sacred chair, I became aware that all was not going to plan. Removing my welding mask, I was met by flames coming from the chair's horse-hair-stuffed padding which was just starting to burn.
Thinking quickly, I ran for a fire extinguisher hoping to save the chair before too much damage was done. But my optimism was soon dashed as, on returning to the chair, it was well alight thanks to some chap who had thrown old newspapers and some wood packing onto it. By the time I put it out, it was just a smouldering metal frame, much to the amusement of the gathering crowd who were laughing.
When I tackled the man about placing the paper and wood on the chair he just said with a big grin on his face –"Thought I would keep the fire going till you got back with the extinguisher as it looked like it might go out".  I did not dare show my face in the Fitting Shop for many weeks afterwards in fear of bumping into the chair's owner.
The Boiler Yard
But life in The Boiler Yard wasn't all play. At times, it was very demanding, dirty, smelly and very unhealthy with all the smoke and fumes etc. I can remember extremely large fabrications being assembled and taking a bit of pride that I was actually doing something useful and learning a trade that should last me for a long time (little did I know that this dream was not going to last). Life in The Boiler Yard was quite enjoyable for me at that time, though, as I was actually getting paid and also overtime was available to fund my trips away to see the football.
"A massive cheer erupted from the men who rushed to be first in the queue like a heard of stampeding buffalos"
A lighter moment in the daily life of The Boiler Yard was the arrival of the tea and butty trolley pushed by "Nelly Boon". On hearing it clatter along into the "Fab Shop", a massive cheer erupted from the men who rushed to be first in the queue like a heard of stampeding buffalos – look out if you were in the way!
My first night shift was also a surprise. After a few hours, when the night shift foreman had done his nightly visit, one of the platers, whose name escapes me, introduced me to my first "blue sex film", along with a few other lads that had also been invited to the show.
Becoming the groundsman
So, The Boiler yard was full of surprises and indeed many laughs, pranks and also numerous characters that will live with me forever. A nice surprise in the hot summer of 1973 was being summoned to the apprentice gaffer's (Ron Wilmott's) office. Thinking on the way to his office "what have I done wrong now?" he informed me that they had just sacked the groundsman of the sports' ground at Hempsted and that I was to take his place for a few days marking out the cricket pitch and tennis courts etc, plus cutting the grass on an old tractor.
The few days turned out to be a couple of months and I returned to The Boiler Yard with a fantastic sun tan and consequently to much more banter from the men.
I have been racking my brains for names of the men that I shared  my time in The Boiler Yard with and here are the ones I can remember: Gordon Tozer, John Craze, Geoffrey Heaven, Walt and Jim Wheeler, Stan Clapton, John Sobkin, Pete Vallender, Les Hill, Gerald Sutton, Fred Richards, Colin Taylor, Barry and Derek Aldridge, Arthur Lodge, Geoff Wood, Len Gapp, Roy Moses, Bill Jefferies, Fred Worgan, Ian Juggins, Tony Banks.  I can remember some nicknames of men that I whose proper name's I can't remember, i.e. – Horse, Dapper, Shep, "Dennis" (the Fab Shop crane driver), Derek the "Iron Fairy" (another crane driver).
British Rail
My dream of becoming an engineer came to a halt in the February of 1975 when, once again, I was called into Ron Wilmott's office. I was informed that, as the company was going downhill and laying off men thick and fast (I think there were over 500 staff when I started at Fielding's), when my time as an apprentice was up in June there probably would not be a job for me and others. However he said that, if I could find a job in the meantime, they would release me with full apprenticeship papers.
A couple of weeks later, a close friend said he could get me an interview at British Rail for a position in the Signal Department doing general repair work. I applied for the job and was given an interview date on a Tuesday of all days (Tech Day!) in late February.
The man giving me the interview offered me the job straight away if I could start in two weeks. I accepted the position without a second delay, which meant I would be working outdoors, a pay rise, and free train travel, plus I wouldn't have to attend that dreaded Technical College any more.
I walked back to college to be greeted by the college teacher I hated most and had made my life hell for the past three years. He said he would be reporting me for missing his lesson, but I had great delight informing him that I didn't care as I was off back to work to hand my notice in. Happily, I never saw him or the Technical College again.
I duly started work for British Rail on 5 March 1975 and worked there for 34 long and happy years until I took early retirement and a pension. I currently live in Spain near Valencia. I did not quite get to be a train driver but at least I got to be on the same team and did get to ride in the cab of a few trains as part of my work.
If you remember Phil, the Boiler Yard, or any of the guys he remembers, please share your memories by adding a comment below.
Click on the hyperlink to see the photograph of the 1971 apprentice intake of which Phil was part.
 Click on the hyperlink to listen to Phil's mum Kath's experiences at the company