Ken Juggins and colleague
Pipe benders in the 1970s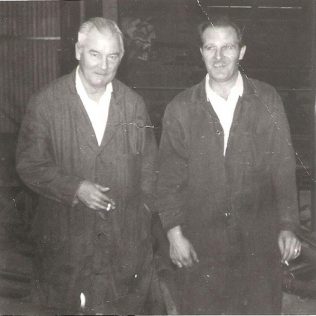 This picture of Ken Juggins and a colleague was taken in the Pipe Shop in the early 1970s. They worked under Ray Chamberlain, the foreman.
The pipes of many wall thicknesses and diameters would be bent from a drawing using large and small hydraulic benders and a strenuous manual process which included a large slab, the packing of sand (to keep the pipe form), heating torches, and a skillful eye.
If you know who the other man in the photo was please leave a comment below.