Richard Brain
Office boy, Apprentice and a busy career from then on.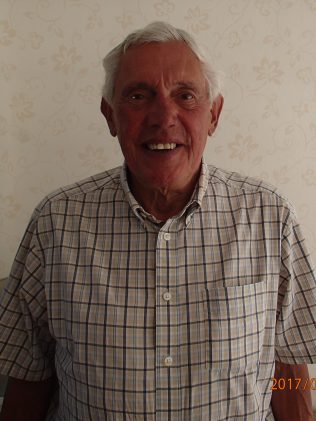 Richard tells us in Part one of his interview how he started at F&P in 1954 as an office boy. Then when he turned sixteen in 1955 he joined the Craft School, under Bert Ravenhill.
Richard went through the machine shops then Fitting Shop 2, where he worked on H3 Pumps, Radial Pumps, slab and kerb presses and accumulators.
When he moved to Hydraulic 1 fitting shop, he worked on extrusions etc.
At the age of 19 he was sent to Lucca in Italy on his own, to install equipment in a Munitions Factory. Fieldings certainly got their moneys worth out of the apprentices!
Richard did play some rugby at F&P and remembers the concrete bath in the old railway carriage, used as a changing room. He mainly however played for Old Cryptians.
Shortly after Heenan and Froude took over F&P Richard says there was a full order book, but Fieldings had no money in the bank. To reduce the head count, employees were advised to take time off to seek out other employment.
In Part Two of his interview, we hear that a new job was forthcoming at TH Daniels of Stroud, where the work varied between a Nestle coffee plant and Power Stations. Daniels unfortunately folded and Richard went on to work at Muir Hill, back on hydraulics.
This was followed by many years working at Simon Barron and Simon Solitec, which were based further down the Bristol Road in Gloucester, this is where I met Richard first. I apologise for the reminiscing during this part of the interview, but believe it or not I have removed a lot more during the edit! We both were involved in Materials Handling. This is powder and granular products, handling and processing. From coal, to flour to all sorts of chemicals, foodstuffs, minerals etc. Giving access to very varied sectors of industry.
Finally Richard worked as a Sales Engineer for a company called Wam Engineering in Tewkesbury, again in the Materials Handling industry. He has worked out that during his varied career he has worked in 46 or 47 countries around the world.
His last words to us were that the training and experience he gained at F&P set him up for the rest of his career and the fact that he was trained at Fieldings, opened the doors to several jobs.
This is something that every ex employee Derek Tidmarsh and I have interviewed has said without prompting.
If you remember Dick, or any of the topics discussed and would like to share your memories, please click on the words Add a comment about this page below.