Frank Bullock
Apprentice to Works Manager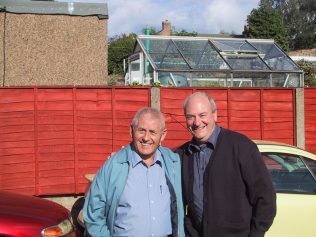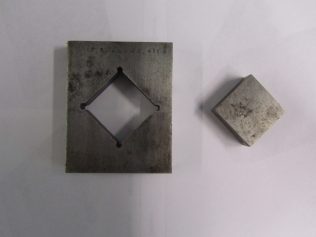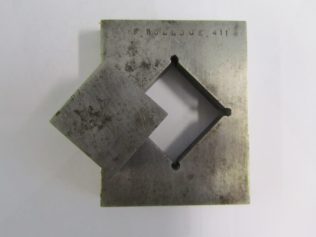 Pete Bullock has kindly sent in some information about his Dad, Frank, who worked at Fielding & Platt from 1952 to 1982.
Frank started as an apprentice and progressed to become Works Manager.  Sadly he has now passed away, but his son often looks at the website and many of the names are familiar to him from conversations he had with his Dad.  Pete recalls his Dad talking about his experience with various types of machine but in particular with the 1600 ton Extrusion Press.
One of his early apprentice tasks was obviously firmly fixed in Frank's mind, this involved making a square section of steel fit a square hole.  You will see from the photos of this piece that Frank had stamped his name and we assume apprentice number, 411, on it.
Our thanks go to Pete for supplying this information and the photograph which was taken on his Dad's 65th birthday.  Frank is on the right of the picture and Bill Wagner on the left.  I am sure many people will remember Frank, and Bill, so please send us your memories by clicking on the link below.
Pete has also let us have copies of various product brochures and the first edition of the Company's Forum newsletter.  These documents are available in the Brochures section of this site.
If you can add information about Frank, or the machines mentioned above, please click on Add a comment about this page below.