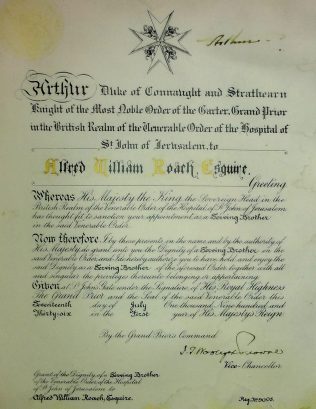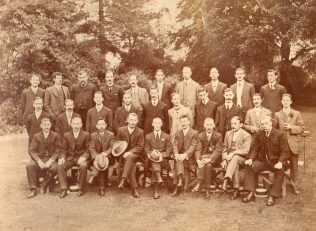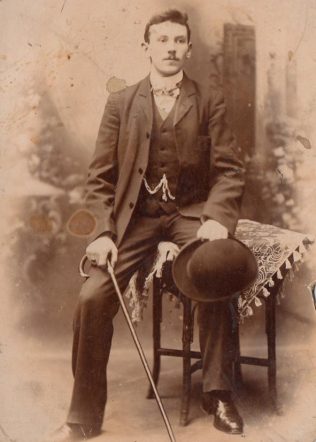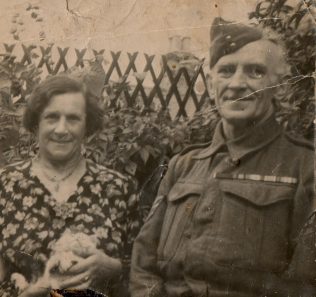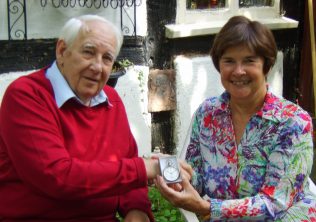 More information and a correction.  Barry Roach, the son of George A Roach (Pattern Maker) and  grandson of Alfred W Roach, (Storeman and First Aid Lecturer) has  supplied some  pictures and more information about his family. Of particular interest is the certificate which shows that Alfred W Roach was 'granted of the dignity' of a Serving  Brother in The Venerable Order Of The Hospital Of St John Of Jerusalem. It is dated 17th July 1936.
One of the pictures shows Barry with his grandfather, sister  Betty, who also worked at the company and cousin Sheila.
Another shows a large gathering of Fielding and Platt staff. A W Roach is on the extreme left in the back row.
The next three pictures show Arthur in 1st and 2nd world war uniforms and in interwar 'civvies'.
A recent development:- The silver watch referred to in Alfred's details, had passed down to Gill Mc Alister, the granddaughter of one of Alfred's cousins. From information published on this website, Gill found that Barry was a direct descendant of Alfred and decided she would pass the watch to him. The final photograph shows their meeting. A second 'gold' watch, presented to Alfred on his retirement, is in the possession of Barry's son.
Do you remember any of the Roach family or recognise anyone in the group photograph. If so, please click on the words Add a comment about this page below.
Click on the hyperlink to learn more about Alfred Roach
Click on the hyperlink to learn more about George Roach
Click on the hyperlink to see George in Home Guard Uniform.