Steve Price
Joined F&P in 1959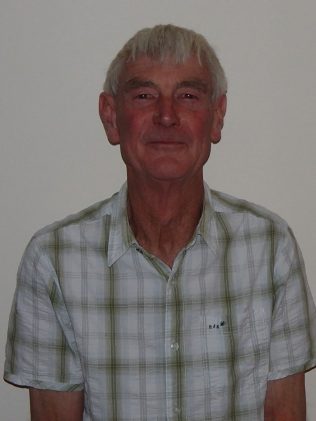 "Steve_Price_2017_09_25_MP32".
Derek Tidmarsh and I interviewed Steve Price in his house just outside Newent. Steve started at Fieldings in 1959 as an office boy at the age of 15. He earned £1-18 Shillings and 1 Penny per week and cycled from Newent to Gloucester each day. During the following year he took drawings to sub contractors on his push bike, collected someone's glasses from home, which had been forgotten and did all sorts of 'gofer' jobs for employees. He did learn his way around the site and met a lot of people, which must have helped when he started his 'Proper Job' as an apprentice.
Steve attended the Apprentice School under Bert Ravenhill and Gerald Williams. He remembers Gerald coming to work on a Lambretta scooter. After completing 'The Block' and making the various tools required in the Craft School, Steve joined the Light Machine Shop, spent time in Hydraulic 2 fitting shop, working on H3 pumps and then Hydraulic 1 fitting shop, where he helped assemble part of the stretcher which went to Cegedur in France. This stretcher was a 3,900 ton aluminium plate stretcher, used to stretch plate used in aircraft manufacture. The plates for Concorde were stretched on this machine. There is a film on the website, showing the manufacture and installation of this very large unit.
After his time in the works, Steve joined the Jig and Tool Drawing Office for a while, then transferred to the main Drawing Office, working on extrusion presses.
Nineteen years later, Steve applied for another job within the company, but it was hinted he had been there too long for promotion! Three months later, Steve joined Dowty Mining near Tewkesbury. Here he was given the task of checking other people's drawings, prior to issue for manufacture, but he also designed assemblies of pit props for supporting complete coal faces. He refers to one seam in Nottinghamshire which was 10 feet high with well over 100 hydraulic pit props which were each approximately 4 feet wide!
Steve's final employment was with CEGB at Barnwood, where he got involved with the design of atomic power station systems and also the decommissioning of them. He retired once, but was called back to EDF (which has taken over the Barnwood site) to help with a project, but he finally retired about 18 months ago. Steve is now a young 72!
Once again, what was learned at F&P gave Steve an excellent grounding for his career and he is now busy with his horticultural interests.
If you remember Steve, or some of the topics he mentions in his interview and would like to share your memories, please click on the words Add a comment about this page below.