Jim Hurcombe and Sylvia Brown.
Memories from their son Roy.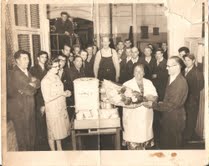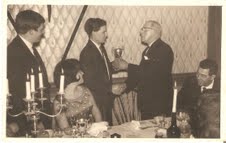 Hi, my name is Roy Hurcombe. Both my mother and father worked for Fieldings. Dad all his working life. His name was Jim Hurcombe. Mum worked there as Sylvia Brown.
Dad passed away about 3 years ago now, but Mum is still fit and well.
Mum started in the Filing Office with Mr MacGarragher, then moved to the printing office with Tom Underwood (who got their wedding cake made for them). She then moved to the despatch office with Jim Haynes and Les Wheeler.
Dad joined Fieldings (we think) in 1947 as a fitter under Bill Hickman and as long as I can remember he worked on nights for years. I can remember him going away to the Corgi factory for 1 or 2 weeks every summer and coming home with lots of Corgi cars, hot off the press!
Cyril Hurcombe was Dad's uncle and I can remember going round to his house in India Road, looking at his budgies which he bred out the back.
If you remember the people in the pictures or remember more about Jim and Sylvia, then please share your memories by clicking on the words Add a comment about this page below.