Graham "Chippy" Aston
Into the big world: apprenticeship memories, September 1964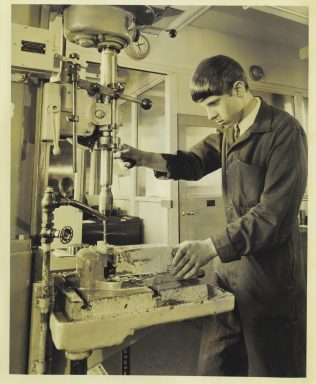 On my first day at Fielding & Platt I remember arriving at the Works' gate and being taken by the gate policeman, Steve Cheeseman, up to the Apprentice Training School. We would have gone up the outside stairs and into the Light Machine Shop, then walked the length of it until we reached the next set of stairs near the lift and so into the training school.
As soon as I walked through the door I met Bert Ravenhill and his greeting was, "Don't walk over the white lines, they are there for a reason, you walk between them!". The white lines marked out the gangways and were the safe areas to walk through the different workshops (not that I knew that as I walked through the door that Monday morning in September 1964, but I very soon learnt!).
The dreaded block
As other ex apprentices of the time have said, we ALL had to do the dreaded BLOCK! Chiselling, filing and scraping a cube of mild steel to reduce it in size – the job was not over until you had got it to a level of quality that Bert was happy with.
As the days and weeks went on you would learn about the various machines in the workshop and the different aspects of bench work.
The apprentice school tool store
When you spent a week (I think) in the school's tool store, you learnt to change the roller towel in the toilets and to polish the brass door handles throughout the training school – not forgetting to polishing the desks in the lecture room as well!
The training we all received at Fielding's was, as far as I am concerned, second to none and, if you got through that first year in the training school, you were on your way!
Click on the hyperlink to see a photograph of the 1964 apprentice intake of which Graham was part.
If you remember Graham being in the 1964 apprentice intake, or working with him at Fielding's or on jobs away please share your memories by adding a comment at the bottom of this page.