Beatrice Freeman
Crane Driver - war-time and beyond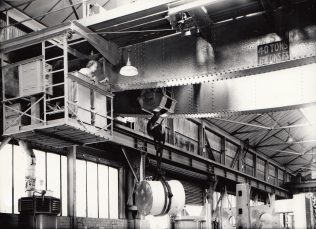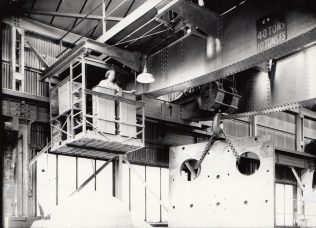 Edward Freeman, who was born in Gloucester but is now living in Australia, spotted an article about Fielding & Platt when a copy of the Gloucester Citizen was sent to him recently – this publication certainly travels far and wide!
His mother, Mrs Beatrice Freeman, worked as a crane driver alongside Mary Hamp during the war and for many years afterwards.  Edward remembers very clearly standing near the big roller door in the Black Road (Baker Street) and looking up to watch his mother doing her work.  He was very proud of her as it was very unusual to see a woman doing this sort of work in those days.  One thing that always stuck in his memory was that more than once she came home and told him that "one of the slingers lost a finger today!"
Click on a photograph to enlarge an image.
Click on the hyperlink to view other women crane drivers.
If you remember the people, places or machines mentioned here, please share your memories by clicking on the words Add a comment about this page.