John Tranter
From Apprentice in 1941 to Electrical Engineer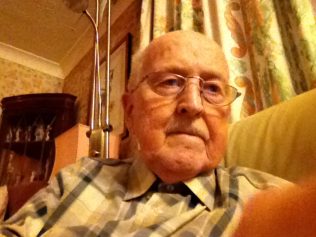 Central School
Like a number of my predecessors who started work as apprentices at Fielding and Platt, I was a product of the Central School for Boys, well taught in the art of metalwork by the revered Mr Cobb.
For my part, I had the belief that engineering was a super vocation and I didn't need any one pushing me in that direction, indeed I applied for special dispensation to leave school before end of term, so that I could join Fielding and Platt.  I remember a quite terrifying interview with the school board committee and having to justify my pursuit of a technical, rather than a commercial, vocation.  However, when I was told that my request had been granted I was very pleased with the outcome of the interview.  My last obstacle to overcome, then, was to get my father to sign my indentures, which were duly signed as soon as the document had been prepared, in the presence of Mr Bill Prior.
I was now on the threshold of a great experience that was to last for 20 years initially, followed by a further 9 years, before taking up the post of Chief Electrical Engineer, at our associate company Fielding Plant Design, until the company was dissolved in 1989.
In at the deep end
When I started my apprenticeship, we did not have the luxury of an apprentice school.  It was straight in at the deep end in Number 2 Hydraulic Workshop, doing the more menial tasks involved in the construction of a set of H15 pumps for Russia.
I remember being asked to work late, one evening, to ensure that all equipment for a Russian contract was packed ready for shipment.  It was a very large order, which, to the best of my memory, was a 2500 ton horizontal extrusion press with an accumulator system and set of H15 pumps.  It was some years later, after the war, that we learned that this shipment had never left the dockside and had been bought by a scrap dealer, who had resold it to Enfield Rolling Mills of Enfield.  Fielding and Platt were later given an order to refurbish and install this equipment.  When this part of the contract was finished, I was one of the commissioning team responsible for checking and commissioning the plant.
An apprentice's life was very much fetch, carry, and serve the needs of the senior apprentice or journeyman.  The scraping of bearings and the finer arts of fitting were skills that had to be earned by watching and waiting.  This was the traditional way.  Although I wanted so much to show how capable I was, I had to bide my time and soon came to appreciate that I was working in the presence of an elite group who did not tolerate fools lightly.  Watch and learn and the appreciation of any advice given, was the order of the day.
Getting up at 6.30am to be at work for 7-30am was quite an effort.  The punishment for being late was to find the gates to the factory locked and not re-opened for 15 minutes to prevent one from clocking in. One then had to suffer the equivalent loss of pay.
Pitiful gas heaters
Against all odds, I survived the first winter at work and remember being so miserably cold, even with several layers of clothes and a good pair of boots.  The pitiful gas heaters were no match for the building's lack of insulation.  It was just corrugated sheets fixed to a metal framework of RSJ's [reinforced steel joists] and girders.
Some enterprising individuals had got so fed up with the cold that they requisitioned four 40 gallon oil drums and converted them into coke-burning furnaces, which certainly helped combat the cold but filled the workshop with clouds of acrid smoke that really irritated one's chest.
Number 2 Hydraulic Fitting Workshop
During my time in No.2 Hydraulic I learned quite a lot about life as well as the work.  I developed firm friendships with many of my workmates and have fond memories of our daily exchanges of interests.
I think my greatest test of endurance was when I was given the job of sand scratching an endless pile of press drawback cylinders.  Most, if not all cylinders in the those days, were cast iron, where unfortunately, in the casting process, a residual amount of sand and slag would adhere to the inner wall of the cylinder – this had to be removed by hand.
There were no sophisticated tools made available to do this particular job so one had to improvise.  Believe it or not, the only aids that were available to do were a tallow candle, a length of timber to hold the candle, and serve as a light to illuminate the inside of the cylinder, two tressles to lay the cylinder horizontally, a set of wooden wedges to prevent the cylinder rolling, and a metal scraper bar (an elongated chisel). The job was sheer tedium and back breakingly hard labour, with one hand holding the light whilst the other manipulated the chisel.  I soon realised that this was part of the learning curve of engineering, it was a test of character and tolerance and someone had to do it.
To add insult to injury my next job was deburring a complete set of valve blocks for a 2500 ton extrusion press.  For the benefit of anyone without the knowledge of what "deburring" means, it involves the removal of all sharp edges from the multiplicity of drilled holes within the valve block.  There was some slight relief when one was given the job of making and assembling the operating levers and locking mechanism.
Quite surprisingly, after some eighteen months in the Fitting Shop I had gained a wealth of experience not only in the finer arts of engineering but, most importantly, also in how to get on with one's colleagues.
Mr Wedlake and Mr Whinn
It was at this time, that Fielding's engaged a Mr Wedlake as Apprentice Supervisor and I just happened to be his first candidate for training.  It was explained to me that I would do a six month period of training in the Light Machine Shop followed by appropriate training in other workshops as soon as this could be arranged.  I think the dear fellow was feeling his way and searching for ideas, so I decided to plant a few by first suggesting that some training in the Electrical Department might broaden my horizons, which strangely enough, he agreed to, in principle.
I lost no time in contacting Jack Whinn, the Electrical Foreman, whom I persuaded to let the supervisor know that a vacancy was available.  Eventually I was transferred to the Electrical Department for an initial term of six months.  This was extended for a number of reasons: usually I would be on some important job and could not be spared.
One of these important jobs was turning the canteen into "a workers' playground" suitable for dances and children's Christmas parties, with a central stage and cinema projection booth.  We also installed and wired a sound system and spent many hours stringing lights that we painstakingly coloured with heat-proof lacquers.  Quite a lot of the wiring had to be run from the projection booth to the stage, which meant working on wooden planks laid across the A-frame of the canteen's roof structure.  I had not got used to working at heights at that stage and found this task quite daunting.
Powercuts and police intervention, 1946/7
I was nearing the end of my apprenticeship when the crisis of winter 1946/1947 developed.  In the post war years we were suffering shortages of just about everything, especially coal.  The power stations could not cope and some had shutdown.
Fielding's were advised, that power to the factory would be restricted and switched off at short notice, at times and duration to be advised.  Redundancy notices were prepared and it was a race against time to come up with a rescue plan.
The Works Maintenance Department enlisted all available personnel to build an engine house with a cooling water facility, whilst Mr Jim Fielding actively pursued the location and purchase of an alternator unit.  A Davey Paxman unit was eventually purchased, and, although we had it up and running in record time, it was not powerful enough.  Mr Jim was made aware of the situation and, as a result, acquired two further units from Brush Maclaren.
Fortunately we had a number of 'in-house' pillars of wisdom who had years of experience with gas engines that were able to offer help and advise.  After many hours of hard work, together with lots of research, improvisation, and preparation of the cables ready for the changeover, we eventually got the engines to a state of efficiency and the switchover time down to an acceptable level to keep the essential machinery operational.
There was one incident, however, that created a potential set back and which nearly wrecked our efforts.  It happened during the excavation of the engine cooling water facility.
One of the maintenance team, a well proportioned fellow, suddenly leaped out of the excavation with a piercing yell, as if he had been fired from a catapult: apparently he had uncovered a human skull.  The police had to be informed, all work had to stop, and it looked as if we were into a crime scene scenario.
After some deliberation, however, it was decided that there was no evidence of a crime and that we could continue with our work.
On completion of my apprenticeship, I returned to the Drawing Office and my first job was to design a change-over bus bar chamber, to make the job of the switching from the grid-supplied electricity to our generators easier and faster.
I do not think it would be an exaggeration to say that the fuel crisis was a blessing in disguise, as far I was once concerned.  It was a crash course in practical electrical engineering that, under normal circumstances, I might never have experienced in a lifetime.
Electrical Design and Controls Dept.
My days on the shop floor were numbered, as the situation changed very quickly when the company decided to employ an Electrical Engineer to put press control on a firmer and more modern footing.
There was, at this time, a move away from the old hand control to one of automation and thus an Electrical Design and Controls Department became a necessity if Fielding and Platt were to remain competitive.
The Electrical Engineer was a Mr Burditt, a very pleasant man who soon found that he was in need of an assistant and I was chosen to fulfil the position.
Fortunately for me, the best laid plans of Mr Wedlake went out of the window and my remaining time during the apprenticeship was shared between working and learning all aspects of electrical engineering mainly in the Drawing Office then back to the Electrical Department, at my request, in order to gain more "hands on" practical experience.
During my time back in the factory, Mr Burditt emigrated to Australia and his replacement Mr Poole found himself in the same position as his predecessor – badly in need of an assistant.  So I was given the position as a permanent member of the staff.
My first jobs were drawing the circuits for a variety of equipment, assisting with the enquiries and estimates and, eventually, the selecting suitable quotations and ordering of equipment.
All plant of any consequence, would be wired and tested in the Works, and as soon as it was completed would be dismantled.  All machined items were then rust-proofed, packed, and despatched to site for final commissioning.
Fully-fledged journeyman
As I was now a fully-fledged journeyman, the job of commissioning and sometimes the supervision of electrical installations were all part of my responsibilities.  Fortunately on major projects, I usually found myself as part of a team of fitters, electricians, and mechanical commissioning engineers, but quite often, I worked with a mechanical engineer, where we shared the responsibility of supervising customers' electrical and mechanical staff.
During my term with Mr Poole we worked together on the modernisation of accumulator control and found a firm of electronics experts who were in the process of developing a control system using thermionic valves to detect the level of water in the accumulator bottle.
As the development was being advanced we started to search for a suitable electrode to serve as a detector of water level working at pressures up to 10,000 P.S.I.  Unfortunately electrodes of the type we were seeking had not been developed so we had to do the job ourselves.  After many false starts, we eventually found that the Royal Worcester Porcelain Company was prepared to make some samples for us to test.  Many different designs were tried and rejected before we arrived at a perfect solution.
Chesterfield Tube Company were the recipients of our first design to  control one of their Accumulator units and, after some teething problems and modifications to the electronic units, we were able to offer, what was then, the most advanced system available.
From your list of notable orders, I spotted many that I had worked on, from the initial enquiry stage to the finished machine.
Sadly most of the firms I visited do not exist today and have been virtually forgotten, so full marks to your project for keeping the memories of Fielding's alive – may I wish you every success.  My greatest regret is being unable to travel to Gloucester to see what you have accomplished, but the recent videos you have made certainly provide for me an excellent compromise.
If you remember John or any of the people, places, or machinery mentioned on this page, please share your memories by clicking on the words Add a comment about this page below.