Wayne Roberts
Wayne remembers Mr Morton's interview conundrums and becoming an apprentice in 1964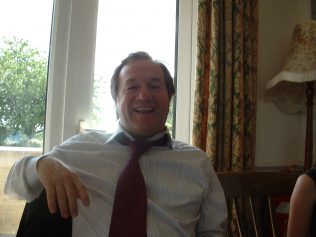 I was interviewed in 1963 for a job in the Photographic Department of Fielding and Platt by Mr Morton the Personnel Manager.
Geoff Morton's puzzles
The Personnel Department was situated at the back of the Time Office where Mr McCarragher the Time Clerk, would sit working at his desk, keeping an eye on those late clocking-in of a morning.
I did not get the job, nor did I get any other job that I applied for that year.  So my choices were limited.
Linden Road School where I, had thus far, completed my secondary education introduced a fifth year only a couple of years earlier and I decided, with the help of my Mum, to go back to school and join that class.
The following year I applied again to join Fielding and Platt, this time on their apprenticeship scheme.
Mr Morton interviewed me again and part of that involved a test assembling a pyramid that had been cut into two parts; he also asked me a verbal puzzle.
"The poser went as follows: 'a lily on a pond doubled its size every day. If it covers the pond in thirty-one days, how long would it take to cover half the pond."
I gave him the answer and he asked me to explain how I'd worked it out. I said that he had told me how to solve it when he interviewed me twelve months earlier!
A fly on a bike
But he had a back-up question, something to do with a fly on a bike!  He asked the conundrum and I sat looking into space for what seemed like five minutes.  He prompted me for an answer.  The puzzle was about time and distance and several numbers were involved.  I blurted out one of the numbers and got it right.
He knew that I'd guessed, and got lucky, but at the final interview he told me that I had the job; partly, he said, because he had not recognised me as the boy he had interviewed in 1963.
I was very pleased and, although I had other offers of apprenticeship positions with very good companies, I took what I was told was one of the finest heavy engineering apprenticeships in the UK.  In the 1960s, that meant the world.
Click here to see the 1964 Apprentice intake of which Wayne was part.