Ken Daniell
Draughtsman, 1940-1983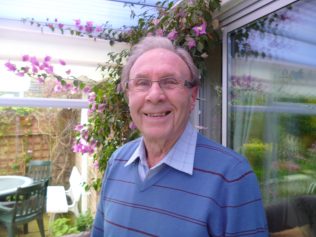 Ken recalls being sent from The Central School for his interview with Bill Thomas in the Drawing Office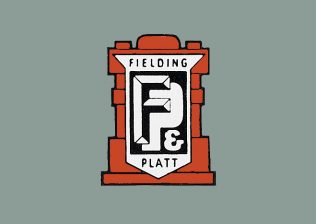 Ken remembers the walk from Howard Street to Fielding's and having to overtake Bill Thomas, the Chief Draughtsman, in order to get to work first so that he could uncover his drawing board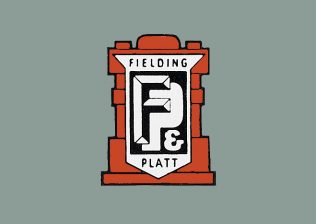 Ken recalls the working hours and wages during his apprenticeship, starting at 12 shillings a week and rising to 30 shillings in his sixth year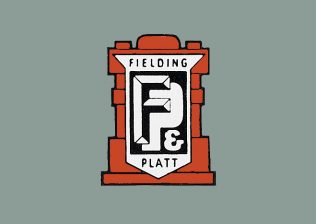 Ken describes his impressions of the factory on his first day and how the workers on the factory floor reacted to an apprentice wearing a suit!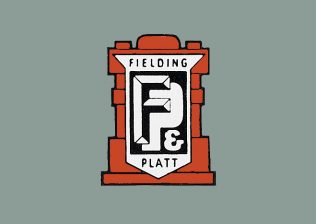 Ken remembers attending Gloucester Technical College during his apprenticeship, achieving his Ordinary and Higher National Certificates, and one of his teachers, Roy Pegler, who also worked at Fielding and Platt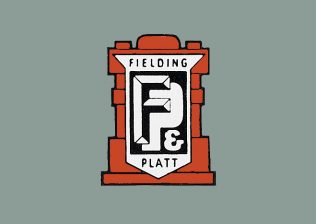 After his apprenticeship, Ken describes specialising in the design of hydraulic pumps and being promoted to Section Leader in 1958 and what this involved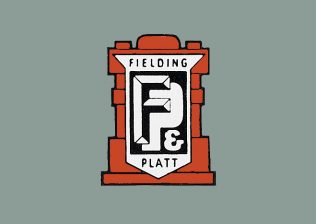 Ken talks with pride about his greatest achievements at Fiedling's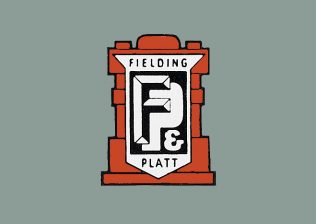 Ken remembers the sports and social life at Fielding's and his involvement with it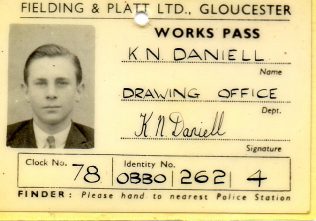 Ken began work at Fielding and Platt aged 15 as an apprentice in the Drawing Office. He worked at the company as a Draughtsman for 43 years, working his way up to become a Section Leader and Hydraulic Design Engineer.
Uncovering the drawing board
Ken was a Tredworth lad and was sent by his headmaster at The Central School to Fielding and Platt in order to get a job. Bill Thomas, the Chief Draughtsman at the time, interviewed Ken. One of the most memorable features of the interview, recalled by Ken, was that Bill asked him if he was left-handed.
If you were left-handed, you had an unusual T-square on the drawing board."
T-squares were used by the Draughtsmen for drawing straight horizontal lines on their drawing boards.
After being offered the job, Ken began work in the Drawing Office. Living in Howard Street, it was only a short walk from the factory. As the junior member of the Drawing Office, Ken had to be in the office early to uncover the Chief Draughtsman's drawing board. "Bill Thomas lived very close to me and many times I overtook him in order to get there first to uncover his drawing board", Ken recalled.
First day
Fielding's was a very different environment from Central School and Ken remembers it was "quite something" seeing the big lathes and machinery in the Works. Ken remembers walking into the Works to the Drawing Office on his first day.
"I remember being put into a suit by my parents and walking down through the Works and various ardent lathe workers were quite surprised to see me dressed in that sort of gear"
Ken soon became very friendly with Bob Madeley and Henley Green and they soon established themselves as a little group of friends in their area of the Drawing Office. The mentorship of the Assistant Head of the Drawing Office, Tom Millington, was crucial to Ken's success on the rugby field too.
At that time, the tea trolley didn't serve the Drawing Office, neither was there a canteen, so Ken remembers going home for lunch.
His early work as a new apprentice involved filing the tracings of drawings produced by the female tracers into cabinets. "You weren't allowed to go on a Drawing Board for quite some time. I think it was a few months before I was allowed a pencil to start work on the Drawing Board", Ken recalled.
Gloucester Technical College
As well as working at the company during his apprenticeship, Ken had to attend technical college three nights' a week to attain his Ordinary National Certificate, then a further two years to attain his Higher National Certificate.
"The Higher National Cert included maths, hydraulics, all various subjects to do with the work … One of the senior Draughtsman in the Drawing Office was Mr Roy Pegler, and he took us for the Hydraulics Section [of the Higher National Certificate]"
Ken went on to specialise in hydraulic design, which involved "designing and setting up the circuits for the hydraulic side of the machines, which included all the valves and pumping systems for the various presses".  A lot of the valves were produced on site, although some of the hydraulic pumps were "bought out", because it was cheaper to do so.
Eventually, Ken was promoted to Section Leader of the Pump and Valve Section and became a member of the senior staff at the company in 1958. At that time he would have had about eight people working for him.
Drawing Office rugby
Ken got involved with the rugby and cricket team at Fielding's. He remembers the railway carriages that the teams would have to change in at the Sports' Ground at Hempsted.
Ken excelled at rugby and remembers that the Atlas Rugby "were one of the most prominent sides of the day in local rugby".
"There were quite a few that went on to play for Gloucester including Roy Parry … I managed to graduate and go up into the Gloucester side with the help of a very good mentor Mr Tom Millington, who was also in the Drawing Office who had also played for Gloucester … At one point, there were three county players all in Fielding and Platt's Drawing Office".
Ken was made redundant in 1983 when many of the Drawing Office were laid off. After he left Fielding and Platt he went to Babcock Moxey and became Hydraulic Design Engineer there.
If you remember Ken, the Drawing Office, or Atlas Rugby, please share your memories by adding a comment below.
Click on the hyperlink to see a photograph of and hear Ken discussing Fielding and Platt's Home Guard.
Click on the hyperlink to see a photograph of Ken at a Fielding's tennis dance, c.1960.
Click on the hyperlink to hear Ken's memories of playing Rugby for Gloucester and Gloucestershire.