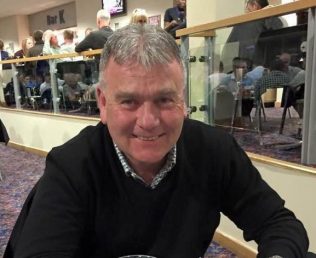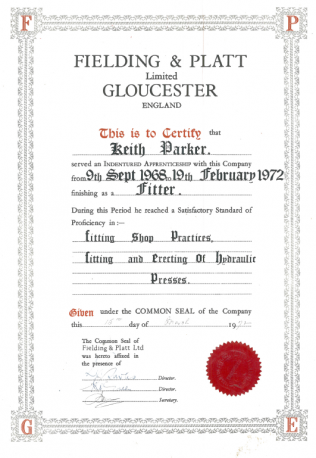 Born in Lydney, Gloucestershire, I went to Lydney Grammar School before starting my Apprenticeship at Fielding & Platt on the  9th September 1968. I had three offers for Technical Apprenticeships, one at Rank Xerox, the other at Dowty's and finally Fielding's. Taking advice from my father he recommended Fielding & Platt as he said it was the best Apprenticeship in the world.
The intake that year was low with just six of us, one of whom was Jim Fielding's son Andrew. I travelled on the bus to work from Lydney, occasionally getting a lift with a guy who worked further on down the Bristol road, the return journey home kept me fit running to catch the bus at the bottom of Westgate Street, the bus leaving the bus station at the very same time we clocked out. On the evenings l had to go to college, it meant the 9 o'clock bus home arriving just in time for bed and the early bus back to work the next morning!
My first wage packet was £3.15 shillings.
Spent the majority of my Apprenticeship in Hydraulic 2 working with John Mabbett mainly on Slab presses, Balers and various bespoke presses and H3 pumps. I also spent some time in the valve Bay with Albert Grendall on the A2 Radial pumps that were fitted onto the concrete presses.
Towards the end of my Apprenticeship l worked on various Extrusion presses mainly with Tony Barton either at Gloucester or on-site. I could write a story-book of my time with him and all the events that occurred. He was a great guy, well-respected and taught many of the Apprentices of that period.
When I came out of my time l travelled all around the world. I remember in 1975, just 3 weeks after getting married, travelling to Japan on my own to install a 2 column slab press. Shortly after, l went with Bob Blowers out to Dubai installing a slab press in the outside, almost in desert conditions.
The following year's l travelled extensively in the UK and abroad. I can even remember my very first experience away with Acceptance Engineer Bill Wagner, it was at Glasgow and we travelled up in his Volkswagen Beetle. Bill used to play games with all his passengers and leave the dual heater on full blast on the passenger side while his side was cool as a cucumber.
The camaraderie at Fielding's was second to none. Even now, I reminisce on my time spent there, stories that would keep my Grand Kids spell bound for days, and some stories I could not possibly tell them.
Like all good things they come to an end and I was made redundant in 1983, within 2 days started at Arjo Mecanaids in Gloucester, working my way up eventually as Supervisor of the shop floor, and guess what, worked with many ex Fielding guys, one of whom was a very dear friend of mine Richard Bennett who sadly passed away a few years ago.
I was at Arjo for 23 years and once again was given notice that the company was transferring all its manufacturing abroad, l left there at the end of 2007.
I went immediately to Messier Bugatti Dowty and am a supervisor on the shop floor. I guess the reason why my career has never had any unemployed gaps is due to the reputation of and experience l gained within those first 16 years with Fielding & Platt.
How right was my Dad all those years ago!
If you remember working with Keith – please share your memories by clicking on the words Add a comment about this page below.