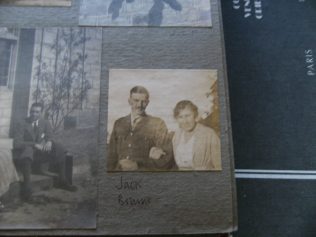 Youngest daughter of John & Ellen Fielding, her nickname was Bellows when young, but later on was known as Belinda.  She was born in Gloucester 1900 and went to Sidcut School in North Somerset, which is a Quaker School.
In 1931 the electoral roll states that she was living at 6 St Luke's Street, Gloucester with her family.
She married John Bourne (1895-1955) on 28th November 1923; he later became a Captain in the war.
They had 2 sons, John born 1925 near Kermanshah, in Persia (now Iran) where he spent his early childhood, and Peter, born in 1930.
They came back to England by train in 1935, during the time of the Stalin Purges in Russia.
John married Celia Kathleen Mary Neeld, and they had no children.
John & his wife spent time in Cornwall, and then moved to Elkstone, where he became a church warden.  John died in 1996 and Celia died 13 years later, on the 5th December 2009 in Daglingworth.
I have very little information on Peter apart from the fact that he studied at Oxford and married Gillian Leather.
Their younger son Peter married Gillian Leather, and they had three children: Jenny, Joanna and James.
Peter was a broker with Royal Insurance spending most of his career in Paris & Brussels.
Jenny married Christopher Ball and they had 2 boys.
Jenny married Christopher Ball and had 2 sons (Patrick and Alexander); Joanna married Christopher Cook and had 2 children (Isabel and Peter); James and his partner Mette Tiensuu had a daughter (Cherica).
Patrick born in 1992 & Alexander born in 1996.
Joanna married Christopher Cook, they have two children, Isabel 1994 & Peter 1997.
Isabel Bourne died in 1971.
To view information about Isabel's sister, Gladys, please click on this link.
Ed:  Please note that the original text above has been amended in 2020 in italics to reflect the corrections and additions submitted by Jenny Ball, who is Isabel Fielding's elder granddaughter.  John B