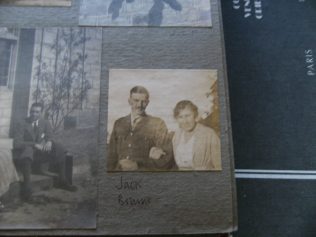 Youngest Daughter of John & Ellen Fielding, her nick name was Bellows.  She was born in Gloucester 1900 and went to Sidcut School in North Somerset, which is a Quaker School.
In 1931 the electoral roll states that she was living at 6 St Luke's Street, Gloucester with her family.
She married John Bourne (1891-1977) on 28th November 1923; he later became a Captain in the war.
They had 2 sons, John born 1925 near Kermanshah, in Persia (now Iran) where he spent his early childhood, and Peter, born in 1930.
They came back to England by train in 1935, during the time of the Stalin Purges in Russia.
I have very little information on Peter apart from the fact that he studied at Oxford and married Gillian Leather.
John married Celia Kathleen Mary Field, and they had 2 Daughters, Jenny & Joanna.
John & his family spent time in Cornwall, and then moved to Elkstone, where he became a church warden.  John died in 1996 and Celia died 13 years later, on the 5th December 2009 in Daglingworth.
Jenny married Christopher Ball and they had 2 boys,
Patrick born in 1992 & |Alexander born in 1996
Joanna married Christopher Cook they have two children, Isabel 1994 & Peter 1997
Isabel Bourne died in 1971
Her husband, Reginald was born into a prosperous Lincolnshire farming family.
He qualified as a civil Engineer in 1905 and studied at both Heatherley's and the LambethSchool of art before the First World War.
In 1912 he was  serving in the Army service Corps in India and in 1915 was gazetted Lieutenant in the 4th (Pioneer) battalion of the Coldstream Guards.  He saw service in France, finishing the war with the rank of Captain.
During the war he kept numerous sketch-books and had work accepted by the Illustrated London News.
After the war, he enrolled at the Cheltenham School of art as what would now be described as a mature student.  This is where he met Gladys (also known as Virginia) who at the time was a teacher as well as a very competent sculptor.
Reg became a well renowned artist who had an exhibition at Walker's Galleries of 118 Bond Street, London.  In 2013 there was an exhibition of his works in the Cotswolds.
After their marriage they moved to Chipping Campden, living at The Martins, one of the finest houses in the High Street, overlooking the Market Hall.
They left there in 1938 to live at Maddock Land in Amberley in south Gloucestershire, where Reg died.
Gladys died in 1954
They had a son Roger born on the 17th May 1929
Roger was first educated at Wycliffe College, then went to St John's College, Cambridge where he studied Agriculture.
He was a great rower, and was in the 1952 Olympics in Helsinki, as well as being invited to row no 6 in the Cambridge Boat race on Saturday March 29th that year.  He remained part of the Cambridge team for 2 years, after which they went to America and defeated American universities.
He also rowed in the winning Lady Margaret crews (8's at Cambridge), 4's at Cambridge Grand Challenge cup at Henley and the Golden crew which won the European games title in 1951.
Roger married Anne Debenham and they had four children
Catherine, born 1956.  She married Guy James and they have three children, Anna, (1984) George (1986) and Lucy (1988)
George, born 1958.  He married Sarah Phillips and they have two Daughters Rebecca (1985) and Meg (1987)
John born 1964
William born 1966
Roger Sharpley died 12th February 1999 and his wife Anne died 22nd July 2004.  Both died in Winchcombe Gloucester.