James Fielding's proposal of marriage to Harriet Berry
A letter written on Birmingham train station, 5 July 1868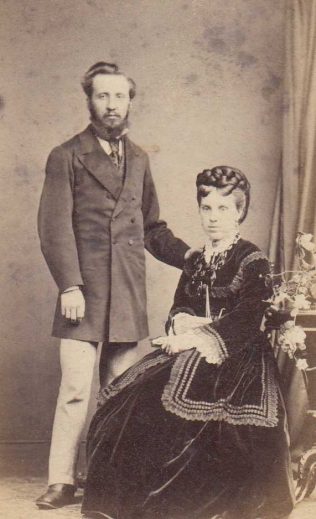 Courtesy of Pippa Edwards
Below is a transcription of the letter written by James Fielding to Harriet Berry proposing marriage to her.  James, who was the son of company founder Samuel Fielding, was 22 years old when he wrote the letter in 1868.  However, it wasn't until 12 October 1871 that he and Harriet were married in Sowerby Bridge, Yorkshire.
Harriet Berry lived at Calderdale House in Sowerby Bridge.  James wrote this letter to her on Birmingham station, whilst waiting for the train to Gloucester, having stayed the weekend with her family.
James Fielding died aged 75 on Wednesday 12 October 1921.  It was his and Harriet's Golden Wedding Anniversary.
2.30 p.m. Sunday, July 5th 1868.

My dear Harriet,

You see I can no longer resist the dictates of my feelings and have therefore addressed you as My dear Harriet, and I shall certainly be disappointed if you do not return the same kind of address in your next letter to me.

As I have two hours to stay here I thought I could not possibly employ my time better than write you a few lines respecting what passed between us at Sowerby Bridge Station last night.  I was exceedingly sorry we had not longer time to speak together alone.  However I think what we did say was to the point and that is sufficient.  I understood you to say that you favourably entertained the idea and was agreeable to my paying my addresses to you, and that in about six months time, providing we are both still of the same mind, as we are now, that we should be regularly engaged.  Now as to our both being in the same humour I can say with all confidence that I have not the slightest possible shadow of a doubt as to my being in the same humour, and I sincerely trust you will say the same in your next letter to me.  I am really convinced that though not formally engaged we are really so, that we should make as happy a couple as any two in the world.  This is really serious on my part.  You know I am sometimes a little jocular, and with you it has been unfortunate because you have not thought me in earnest.  But as I told you at the station, as sure as I live what I say now I seriously mean.  Please write me (per return if possible) and let me hear your ideas in the matter as you had so little opportunity to say anything to me last night alone.  I think it would be advisable for you to direct the letter to me at the Post Office at Gloucester and if you wrote tomorrow I could call for it on Tuesday.  If you cannot write on Monday (but I think you could if you tried) do so by all means on Tuesday without fail.

I hope you will tell Sophia not to say anything about us to Owen, as he might tell Mrs P. or my brother and I don't wish them to know anything at Gloucester for the present, or even suspect anything.  Do you not think it would be as well?  Of course what passed between us at the station and also what we write to each other is sacredly confidential.  I should so very much have liked to have had a few more words together, but we were so surrounded that we hadn't the slightest chance to say more.  I shall be dreadfully impatient till I receive your letter which I trust will be the beginning of the happiest courtship that ever existed.  I go so far as to say that I am confident it will be.

I have written a note to Sophia and enclose this to you so that nobody but her will be the wiser, and I think we can trust her – can you think of any other better way to send your letters?

What time did you get home and what did Pa and Ma say?

I trust you will make every allowance for my great haste.

Anxiously awaiting your reply

I remain

Yours very affectionately,

James F.