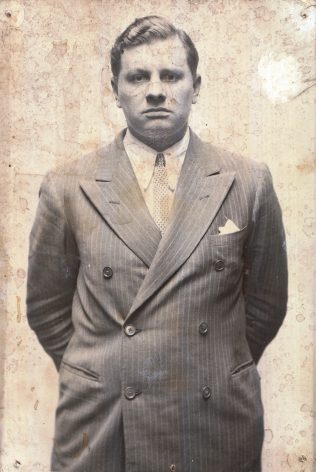 The Paul Regester Collection
Great Grandson of Samuel Fielding.
Son of Frank & Mary Fielding.
Born 2nd June 1908.
During 1912 – 1914, he was living at Lamorna, Tuffley Avenue.
He was educated at Glyngarth School, Cheltenham between 1918 and 1920, and then at Sidcot School in Somerset from 1921 to 1926.
He then went into the family business as a works apprentice from 1926 to 1931, becoming Managing Director of Fielding & Platt in 1941.
Later he became Managing Director of Heenan & Froude Ltd in 1944.
During his career, he regularly travelled to many places, including Belgium, Norway, Portugal, South Africa, Holland, Sweden and Russia.
One such trip on behalf of Fielding & Platt in1954 was an unsponsored mission to the Soviet Union, where he obtained an order for 125 Presses, the price of which was approximately £2,000,000.
On his C V he could state: –
Chartered Engineer.
Fellow of institute of Mechanical Engineers.
Fellow of the Institute of Production Engineers.
Fellow of the Institute of Directors.
He was also: –
Director of the Plessey Co. Ltd.
Chairman of the Shipbuilding Industry Training Board (appointed in November 1970)
Director of Lloyds Bank, Bristol Region.
Member of the Industrialists Relations Court.
Chairman of the Midland Industrialists Advisory Board.
Chairman of the Engineering Employers Association Health & Safety Committee.
These are just a few of the Chairmanships & Presidencies that can be attributed to him.
As a special assignment he was appointed to Lord Pearson's Court Of Enquiry into the Dock Strike – 1970.
He was also a Governor of King's School, Gloucester.
The electoral roll states he was living at 140 Tuffley Avenue with his parents in 1931.
He married Diana Mainwaring Williams in a registry office in London on April 29th 1938 and they had 3 children.
Beverley born 10/07/1943.
Druscilla 28/08/1946.
Andrew 07/07/1950.
Their first home was The Old Forge, Hayden, Gloucester, where Beverley was born, and then they moved to Apperley, Gloucester, where their other two children were born.
Jim (Francis) farmed pedigree Friesians & Large White pigs from 1946-1958 when they moved into Cheltenham, where Diana died in 1993.
As Jim's health deteriorated, he eventually had to move into a home, Morton Hill Care Centre, near Stonehouse, where he died on 22nd October 2004 at the great age of 96.