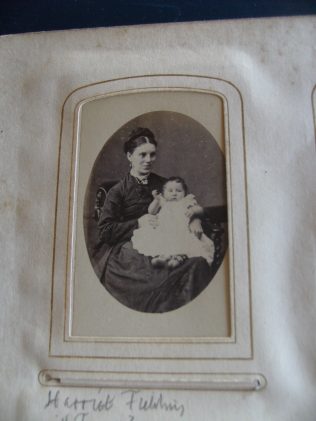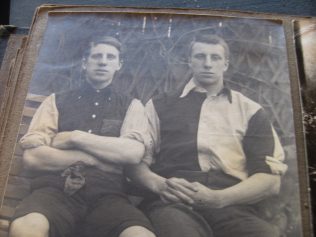 Frank was the first grandchild of Samuel Fielding, born to James & Harriet Fielding in 1872.
Left handed, Frank Fielding was educated at Sidcot School in Somerset.
On leaving school he went to work for the family firm of Fielding & Platt, where he stayed for 2 years.  He then went to Manchester University returning to Fielding & Platt's 2 years later.
He married Mary Hill Round (known as Molly) at St Pauls Church, Stroud Road, Gloucester on 19th June 1901.
Mary was born in 1882 at 90 Southgate Street, the only daughter of the Rounds; her father was a Coal Merchant.  After his death they moved to Miviose, 36 Linden Road, Gloucester.  She had a younger brother Francis. 
Their Bridesmaid was Marjory Fielding, Frank's cousin, and Arthur his brother was Best Man.
There was a triumphal possession from a number of employees & apprentices from Fielding & Platt's as they unhorsed the carriage & drew it themselves to the residence of the Groom's parents.
After their marriage they lived with his parents for a while at Fayrehurst, 36 Weston Road, Gloucester, and later moved to Gowanlea in Stroud Road, Gloucester, then to Lamorna in Tuffley Avenue.  They named it after a cove in Cornwall.  The house has been demolished and is now a small housing estate.
On the 1901 census, they were living in Weston Road with his parents & brother Arthur, & he was described as being a Mechanical engineer.
They later had a son & daughter, Francis (Jim) & Nancy.
Frank went to work for Fielding & Platt, starting work in the drawing office.  He became a Managing Director in 1941 and, although he retired in 1951, he remained a director and attended meetings up until close to his Death.
Frank was one of the Founders of the Hydraulic Association – a National trade association started in 1938.  His son Francis Fielding later became their Chairman, holding the office for 3 years.
The name of Frank Fielding was always given an honoured place in the history of Gloucester City Football Club, and he played as a forward for the City & County Association Football team.
He could claim the distinction of having played in the 1st match at Clifton in 1889 where the great Dr W G Grace was referee, (Gloucester was then an amateur team).
Frank became Captain of the team that year, and played for them for 10 years, until he broke his collar bone for the second time and so retired from playing football.
He also loved rowing and was a member of Gloucester Rowing Club; he rowed Junior & Senior Fours as well as Senior Sculls.  Later he became a coach and served on Gloucester Rowing Club Committee, as well as being a member of Gloucester Golf Club.
He lived most of his life in the Tuffley Area of Gloucester, but moved to Cheltenham in 1946 when he retired, living at The Old Forge, Haydon.
On his death (15/02/1955) aged 82, he left his wife and two children, Francis and his daughter Mrs Nancy Janvrin.