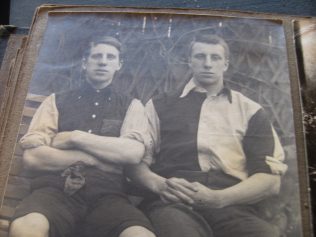 ARTHUR FITTON FIELDING
Second grandson of Samuel Fielding
Born 1877
Like his brother Frank, he played for Gloucester Football Club; he played as a Forward, making 105 competitive appearances in which he scored 24 Goals.
His debut was in October 1893 at the tender age of 16.  Later he tried his luck at Bristol City, but sadly never made 1St team.
In 1897 he was made Captain, which he remained until 1900
He was also a member of the Sir Thomas Rich's Old Boys who were Gloucester & District League division 2 Champions during 1901/2
His football Career ended in March 1904 at the age of 27, at which time he held the record number of appearances for the club in competitive games.
He worked for Fielding and Platt, mainly as an agent, travelling to & from London a lot.
The Census in 1901 states he was still living at Home with his parents, at Fayre Hurst, 36 Weston Road, Gloucester.
He married Florence Fanny Collins at St Paul's Church, Stroud Road, Gloucester in 1947
Sadly they had no children of their own, but Florence's niece, Kathleen Collins, became like a daughter to them and inherited all from them.
Arthur died 20/07/1948
Florence died October 1947.
Both were cremated at Cheltenham crematorium.