Fielding Cold Breech Engine, c.1930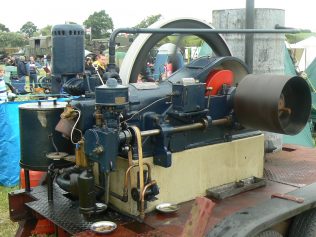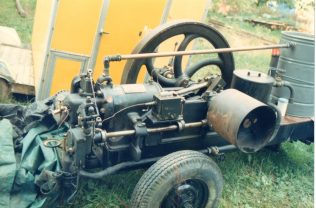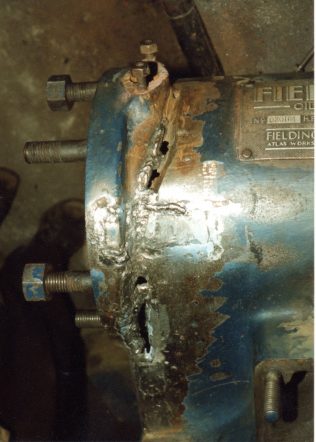 Fielding Engine Number 020164
This engine was built in 1930 and installed at a water pumping station at Massington as one of a pair driving triple ram pumps. The engines were removed from the pumping station app 1980
The engine has a 7" bore x13" stroke and develops 15 BHP @ 400RPM.
This style of engine started and ran on indirect injection and this caused a problem with starting and resulted in the introduction of the Cold Start style of engine which used direct injection for starting and indirect injection for running.
In 1990 the late Ray Swan and myself bought the engine for restoration which was carried out in the winter of 1990.
The first part of the restoration was to build a steel frame which would be rigid enough to keep the engine and outrigger bearing in line so as to maintain true running of the crankshaft.
The next job was the dismantling of the engine which revealed that mechanically it was in reasonable condition.
Over the next 6 months the engine was rebuilt onto the framework during which time the main bearings were scrapped in and the crankshaft aligned.
When we were preparing the engine for painting we found a weld repair to the water jacket and assumed that the engine had suffered frost damage.
When the engine was first started after restoration the weld opened up and water ran out like a fountain.
Following this the engine was again dismantled and the cylinder liner drawn out and the weld was ground out in order that re-welding could commence
It was at this point that we realised that frost had not been the cause of the crack but it was a bad casting. Where the crack had occurred the thickness of the cast iron was app1/4" but on the opposite side it was app1/2" thick and we assumed that when the casting was done that the core must have moved.
When we were welding the water jacket we found that the cast iron contained a large amount of impurities which made the repair very difficult.
Once this was done the engine was rebuilt and finally ran very well and was first put on show in June 1991.
If you have any comments, please share your memories at the bottom of the page by clicking on the words Add a comment about this page.