A study in concentration!
Fitter Bob Boulton in the Valve Section of Hydraulic No.2 Fitting Shop, date unknown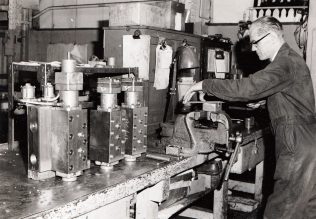 The Valve Bay was an area within Hydraulic No.2 Fitting Shop devoted to the assembly and testing of hydraulic valves and radial pumps.
This photo illustrates in the foreground a number of Fielding designed solenoid operated, air servo, sub plate mounted, hydraulic spool valves.
Click on a photograph to enlarge an image.
If you remember working in this area, please share your memories below by clicking on the words Add a comment about this page.