A 'large gathering' of Fielding people, taken c.1960
A photograph, with most of the names supplied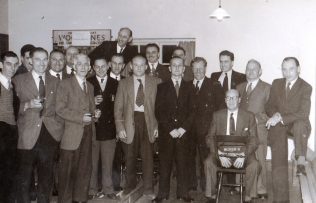 Click on the photograph to enlarge the image.
Pete Walwin/John Davis are credited with furnishing this photo, that included the following names, from left to right: –
Bert Ravenhill; Ray Howes (rear); Lionel Lane (front); Jim Haines; Trevor Hamblett; George Jackson; Bernard Boulton; Ted Hendy (rear); Norman ? (middle); Owen Feltham (front); Don Allen (rear); Percy Taylor (front); Wilf Gardner; Dennis Meredith; ? (front); Bruce Vallender; Bill Meadows.
Can you help us add some memories to this photograph? Perhaps you are in the photo and remember what the occasion was, when it may have been taken and the names that are missing? If so, please leave a comment below by clicking on the words Add a comment about this page.