A 'small gathering' of Fielding people, with Church Street in the background
Taken by John Browning on a box camera, date unknown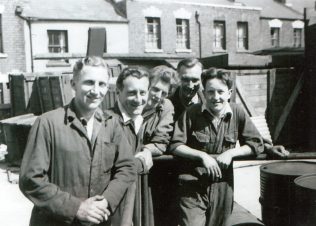 Click on the photograph to enlarge the image.
From left to right: –
Pete Sutton; Albert Grendall;  ?  ; Ron Green;   ?   .
Can you help us add some memories to this photograph? Perhaps you are in the photo and remember what the occasion was, when it may have been taken and the names that are missing? If so, please leave a comment below by clicking on the words Add a comment about this page.