A conference on Fielding's, Lister's, and the Wagon Works
On 31 August 2013, 10.00am-1.00pm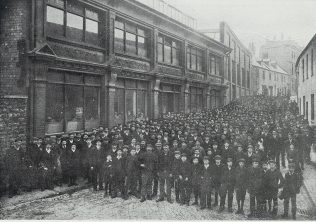 Gloucestershire Archives: R115-110 GS
Due to popular demand, on Saturday 31 August, between 10.00am – 1.00pm, we reran the mini-conference on "What Gloucestershire's engineering firms gave the World" that we organised first in National Science and Engineering Week.
The event took place at the Global Language Immersion Centre, 4-6 Commercial Road, Gloucester, GL1 2EA.
The conference celebrated three of Gloucestershire's most famous engineering companies, each of which exported their innovative products around the world. Steve Mills talked about the Gloucester-based firm Fielding & Platt; David Evans discussed the firm R A Lister of Dursley; and Ian Pope presented the story of the Gloucester Railway Carriage and Wagon Company. There was an opportunity for questions after each talk.
Tea and coffee were available to purchase and a display of images from the Fielding and Platt documents on deposit at Gloucestershire Archives were available to view throughout the morning.