Chauffeur Arthur Jones!
Cleaning cars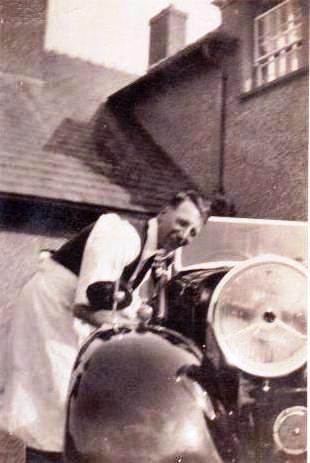 Kindly supplied by Richard Cohen
Richard Cohen writes: –
"My grandfather, Amos (Arthur) Jones used to live in Berkhamsted and was a chauffeur for one of the company owners, Mr Fielding (we believe), and this is a picture of him washing a car some time in the 1930's.  
When he wasn't required as a driver he was promised a job in the factory and moved with his new wife to Gloucester."
John Bancroft adds this note: –
"I recall during the time of my apprenticeship in the '60s that Arthur Jones worked in Hydraulic 2.  He was a first rate fitter, well-respected and very patient whilst teaching the skills of fitting to young apprentices.
He specialised in assembling hydraulic pumps and together we built many H3 pumps during my time with him."