3900/5000 TONS STRETCHING MACHINE - SOME EXTRA INFORMATION.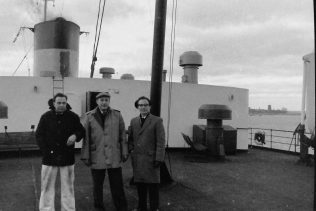 Bill Scott, Brian Ryland and Brian Mince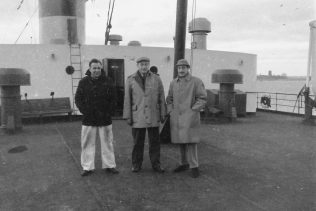 Bill Scott, Brian Ryland and Arthur Hickman.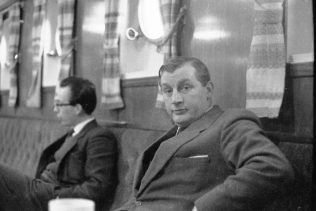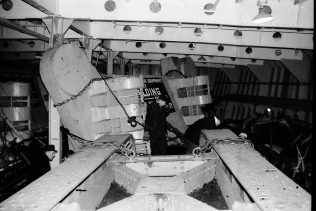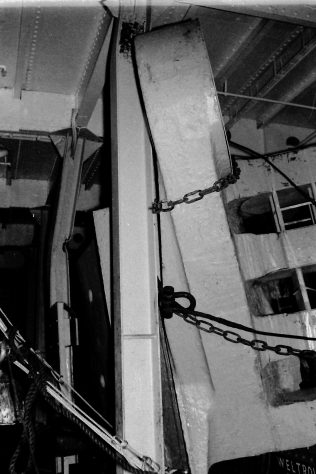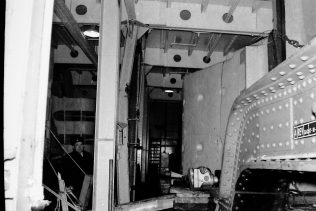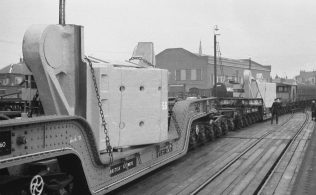 This machine featured in the film 'At Full Stretch'. Some negatives, recently discovered, give details of an incident in 1963 which could literally have 'sunk'  this contract. During the shipment of two of the four 110 tons grip crossheads to  the C.E.G.E.D.U.R. factory in Issoire France on the Harwich to Zeebrugge ferry, a violent storm and heavy seas developed. This resulted in one of the crossheads becoming detached from the low loader, (trailer) and slipping sideways against part of the the ship's structure.
Meanwhile, the Company employees, Arthur Hickman and Brian Mince from the Photographic Department  had been in their cabins endeavouring to sleep. They were alerted by a steward who requested them to put on their life jackets and proceed to the life boat stations. At this request, Arthur calmly proceeded to locate his socks and put them on before complying with the request. This amazing incident was recalled by Brian Mince during one of his interviews.
Eventually all ended favourably. The order was never given to abandon ship but the captain did decide to turn about and return to Harwich where with much ingenuity and hard work, the crosshead was relocated on the low loader. The ship sailed again, but by this time  Brian Ryland from the Inspection Department and Bill Scott, an Acceptance Engineer, had joined Brian and Arthur. The crossheads  reached the factory  without further problems, although a little late.
If you know the persons in the photographs or would like to comment on the incident itself, then please click on the words Add a comment about this page.