Ron and Margaret Yardley
Tied together in a three-legged race...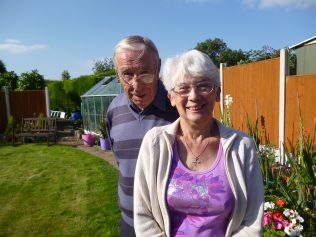 "Ron_and_Margaret_Yardley_explain_how_they_met_at_Fieldings". Genre: Vocal.
Margaret recalls one "very special" year in the 1950s when she and Ron met at one of Fielding's sports' days.
"We were all down there having a good time", Margaret recalls, "and they had a three-legged race".  They were short of people so she ended up being tied to Ron.
"We ran and ran and ran, not far but far enough, and we won!  And then after that he asked me out, and that was it!"
Ron took Margaret out and a few years later they were married. They've been tied together ever since!
If you remember Margaret and Ron and their budding relationship at Fielding and Platt, or were at their wedding, please add a comment at the bottom of the page.