Jack Fielding's drawings
The draughtsman in romantic mood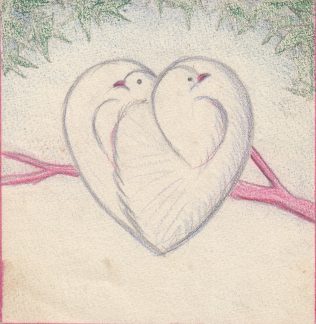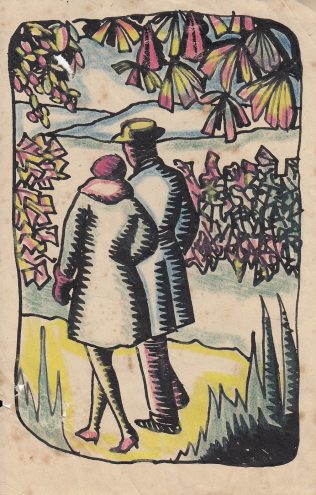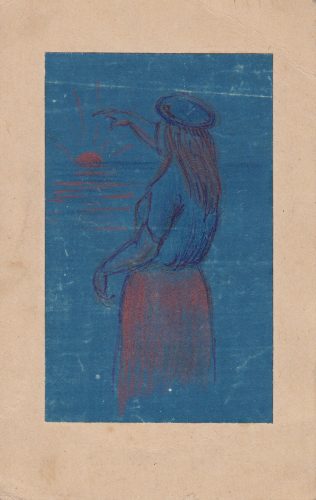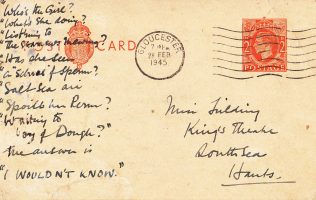 John Cheslyn Fielding, known as Mr Jack, worked as a draughtsman in Fielding and Platt's Drawing Office.
He was a talented artist as well as a draughtsman and would often use offcuts and leftover paper from the Drawing Office on which to make his own sketches, drawings, and designs.
The work here catches the artist in romantic mood and shows what an innovative designer he was. The Lovebirds snuggled together to form a heart capture this well and the couple walking together through the trees demonstrates his eye for colour.
Who's the girl?
The final two pictures on the page show how Jack would often write humourous lyrics to accompany his designs.
The rhyme accompanying the mermaid on the postcard reads:
"Who's the girl?
"What's she doing?
"Listening to
"the sea mews mewing?
"Has she seen
"a "school" of sperm?
"Salt sea air
"Spoilt her perm?
"Waiting to
"… Dough?
The answer is
"I WOULDN'T KNOW"
Click on the hyperlink to see Jack's Christmas Card designs, 1930-1962, produced annually by Fielding and Platt's photography department.