Frank Berry Fielding
Gloucester's first goal-scoring sensation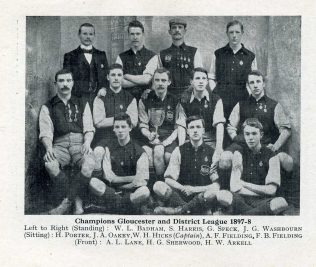 Born in 1872, Frank was the grandson of Fielding and Platt's founder, Samuel Fielding. Like Arthur Fielding, he followed his grandfather into the company and became a mechanical engineer. Frank went on to work in The Drawing Office. You can listen to memories of Frank Fielding here.
Frank's firsts
In 1889, Frank was a member of the first Gloucester team to play a competative match. In October that year, he was also a member of the team who played a "challenge match" away to Clifton, a game refereed by the famous cricketer W. G. Grace!
Record-setter
A forward like his brother Arthur, Frank played for nine seasons for Gloucester, scoring at least 50 competitive goals and at least 50 more in friendlies.
When his Gloucester AFC career ended in 1898, he held both the record number of appearances and record number of goals for the club in competitive games.
Frank had also played in more friendlies for Gloucester than any other player, a record which was only surpassed in August 2012. He still holds the record for the most goals scored in friendlies, which stands at 52.
Statistics
Debut: 26/10/1889 vs Clifton Association Reserves (H) Won 10-0.
Final game: 22/10/1898 vs Ebley (H) Won 2-0
Club captain 1893-4