Arthur Fitton Fielding
Club captain 1897-1900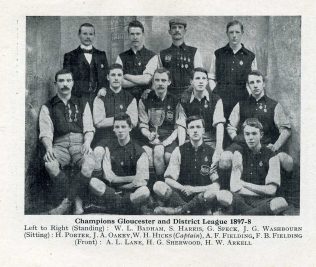 Born in 1877, Arthur was the grandson of company founder Samuel Fielding. Arthur followed his father, James, into the business as a mechanical engineer.
A giant of early Gloucester AFC history
A forward, Arthur played 10 seasons with the Gloucester AFC, making 105 competitive appearances in which he scored 24 goals.
He made his debut for Gloucester AFC in October 1893, aged 16. In 1896, when Gloucester just played friendlies, he tried his luck down at Bristol City but never made the first team.
On his return in 1897 Arthur was made club captain 1897-1900. He was also a member of the 1901-02 Gloucester and District League Division Two Champions with Sir Thomas Rich's Old Boys.
At the time his Gloucester AFC career finished in March 1904, at the tender age of 27, he had held the record number of appearances for the club in competitive games.
Statistics
Debut: 14/10/1893 v Eastville Rovers (A) Lost 2-5
Final game: 12/03/1904 v Saint Michael's (A) Lost 0-1
| | | |
| --- | --- | --- |
| Season | Appearances | Goals |
| 1893-4 | 4 | 0 |
| 1894-5 | 23 | 7 |
| 1895-6 | 20 | 0 |
| 1896-7 | 0 | 0 |
| 1897-8 | 3 | 3 |
| 1898-9 | 16 | 7 |
| 1899-1900 | 11 | 5 |
| 1900-1 | 10 | 1 |
| 1902-3 | 9 | 0 |
| 1903-5 | 9 | 1 |
| | | |
| Total | 105 (+ 29 in friendlies) | 24 (+15 in friendlies) |