Sidney Seymour BENDALL
Wounded at the Dardanelles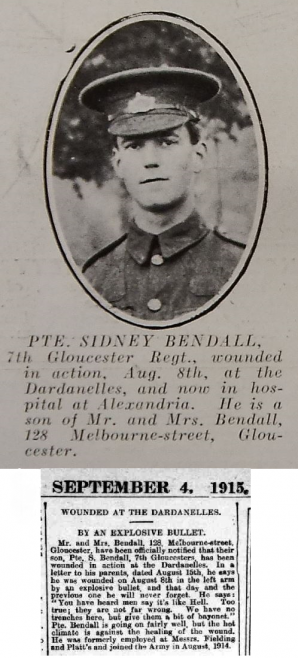 Sidney S. Bendall born Gloucester 1893 – 1954 was a younger step brother of Henry A. Williams (The Williams Family).
Sidney was employed as a skilled moulder at Fielding & Platt and joined 7th Gloucester Regiment in 1914. On 8th August 1915 he was wounded by an exploding bullet in the left arm, whilst serving at the Dardanelles.
A picture of him in uniform and a newspaper article from Gloucester Journal on 4th September 1915 relates the details of a letter sent to his parents regarding his wounding.
Click on the photograph to enlarge the image.
If you wish to add a comment  – please share your memories by clicking on the grey words Add a comment about this page below.