Raymond Joseph Lane
From apprentice in the 1890s to Machine Shop foreman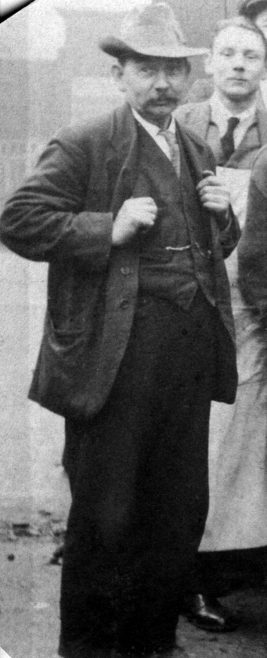 Raymond Joseph Lane, known as "Joe", was born on 12 January 1876. He was apprenticed at Fielding and Platt, probably in the early 1890s, and went on to become foreman of the Machine Shop.  It is said that he was made a foreman before he had completed his apprenticeship, which would make him quite remarkable.
R J Lane & Sons
In the early 1920s, with his sons nearing the end of their apprenticeships at Fielding and Platt, Joe started up a family business (RJ Lane & Sons, Engineers) from his home at 22 Regent Street.
"He even had small foundry in the back garden – planning laws were less strict in those days!"
With the help of his sons, Christopher, John, Leonard, and William, they expanded into premises in Victoria Street. A press cutting from The Citizen on 3 February 1958 titled "Fanfare for a New Glo'ster Factory" reports RJ Lane & Sons had been set up 38 years previously which suggests that Joe started the company before all of his sons had finished their apprenticeships. A later report in The Citizen dated 2 February 1976 on Jack's retirement aged 75, talks of RJ Lane & Sons being set up by Joe in 1922 and Bill joining them "later".
Joe died on 12 December 1949, aged 73. He ensured that his four sons were strategically apprenticed at Fielding and Platt. All served their apprenticeships there under his watchful eye.