Ralph Hart Tweddell, C.E.
An engineer and inventor ahead of his time!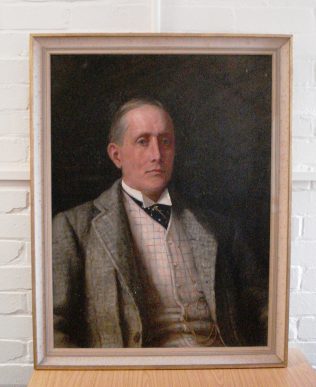 with kind permission of Robert Thompson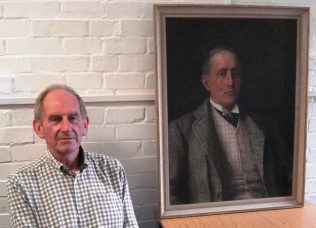 with kind permission of Robert Thompson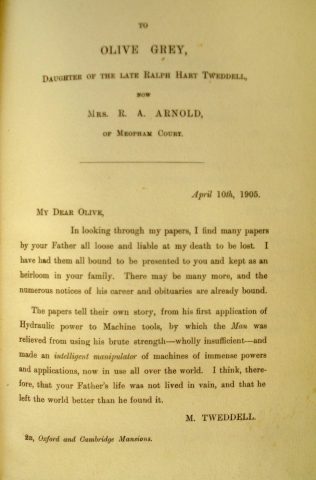 with kind permission of Robert Thompson
In March 2016 the website Message Board posted a note from Robert Thompson, who introduced himself as the great-grandson of Ralph Hart Tweddell (RHT).
A meeting was arranged in July by the Gloucestershire Archives to meet Robert and to view some memorabilia that he brought with him, not least of which was a large oil painting of RHT and a leather-bound volume of RHT papers.
The portraits speak for themselves, but more about the book and the papers contained therein!
The Fielding & Platt Heritage Group are greatly indebted to Robert for loaning this book to the Gloucestershire Archives thereby enabling us to copy and share with you the contents of this valuable and unique collection.
********************************
Following Ralph's untimely death in 1895 Ralph's father, Marshall Tweddell, must have realised at some stage that he had accumulated a quantity of loose papers and booklets belonging to his son, that could be irretrievably lost and therefore he arranged for them to be bound and the resultant book was then presented to his daughter, Olive, in 1905 for her to keep within her family as an heirloom.
The letter to Olive explaining this is shown alongside.
********************************
This book contains various Papers that were presented in person by RHT to eminent professionals, Societies and Institutions of the period.  Some Papers include illustrated Plates of various hydraulic machines, with transcript of minutes and discussions of meetings.
Pages of contents  and details are provided and each section of the book that could be recovered in digital form is reproduced page by page.
*********************************
A word of caution from the editor!  Some may find the reading of all these documents quite hard to digest, but for aficionados of industrial history they may provide a valuable insight into the development of Tweddell's System as it was known, namely the hydraulic rivetter, the hydraulic presses and workshops that were supplied worldwide in conjunction with the manufacturing expertise provided by Fielding & Platt. Also, the opinions/discussions/counter arguments that took place during the latter part of the 19th century, of mechanical versus hydraulic machines.  Clearly, this would have been a period of high industrial activity for Fielding & Platt that must have provided a strong influence to the direction the company took in the development of hydraulic presses at the time and for many years thereafter.
It is evident that RHT moved in high circles both in the UK, France and elsewhere and that his knowledge was respected by his peers and his list of awards bears testament to this.
*********************************
Lastly, during the months that these pages were being prepared for the website I was fortunate to read a recent publication entitled 'Hydraulic Fluid Power, A Historical Timeline' by author Steve Skinner (ISBN 978-1-291-67689-1). In his words 'A lighthearted ramble through the history of fluid power from its birth at the end of the 18th century up to the modern day'. 
RHT features in his book and is seated at the top table in his Hall of Fame!  This is excellent light reading and must be commended to engineers, both young & old!
*********************************
Click on this link to go to the pages.
Click on a photograph to enlarge an image.
We welcome comments on this section of the website. Please share these with us by clicking on the words Add a comment about this page below.