The Redman Bumper Bar manufacturing sequence
Illustrating three stages of the manufacture of an automobile bumper bar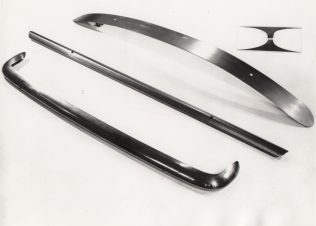 A Redman coiling and slitting line was used to produce individual bumper components. The ends were then 'profiled' and attachment holes 'punched' in the bar. (Top view).
The bar was then passed through a series of small progressive rolls to raise the section of the bar, thereby forming a 'U' shape. (Middle view).
The 'U' shaped bar was clamped to the upper shaped former of the bumper bar forming machine which commenced rotation at the same time as a set of rolls applied pressure onto the component. Completion of rotation fully formed one end of the bar (1st stage).  The bar was then unclamped and placed onto the lower shaped former, with a fresh product being inserted onto the upper former.  The operation was repeated, thereby completing formation of the first bar (2nd stage). (Bottom view).
Click here to view a typical set of rolls and formers on a Redman Mk 1 Machine.
Click on a photograph to enlarge an image.
Click on the hyperlink to see other Notable Orders from the 1970s
If you remember designing, machining, fitting, installing, maintaining, or working with this machine please share your memories at the bottom of the page by clicking on the words Add a comment about this page.