400 gal Air Hydraulic Accumulator (No. 1 Main Works), O/No. 8620, c.1939
Order 8620 for Northern Aluminium Ltd., Rogerstone, c.1939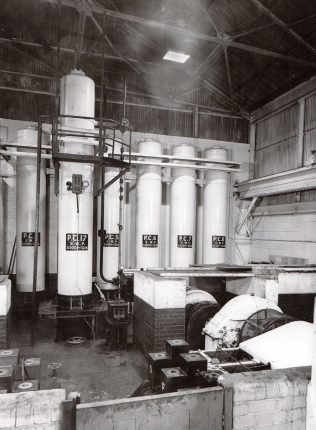 This centralised water hydraulic accumulator system was used to power a number of horizontal extrusion presses in No.1 Main Works. The useful capacity was 400 gal between the upper and lower levels. The upper limit, or max. safe working pressure, was 3500 psi (as shown on each bottle).
The system comprised a large air/water bottle in the foreground (PC17) and a number of air back-up bottles both sides to the rear.
A single control tube, with isolating valves top and bottom, is shown to the side of the air/water bottle.  Located between the isolating valves are a number of electrical sensors (search coils). Inside the control tube is a float that rises and falls in line with the water level in the main bottle. An electrical signal is generated when the float passes the sensor and the signal is amplified and used to control the demand from the pumps, shown in the foreground. A lamp box is shown attached to the air/water bottle.  This would indicate both normal water levels and abnormal high and low water levels when the air/water bottle would be isolated. To the left of the lamp box is a siren, that would be triggered in the event of abnormal low water level. To the right of the lamp box is a contact pressure gauge that would trigger abnormal low or high pressure.
Click on a photograph to enlarge an image.
Click on the hyperlink to see other Notable Orders from the 1930s
If you remember designing, machining, fitting, installing, maintaining, or working with this machine please share your memories at the bottom of the page by clicking on the words Add a comment about this page.