Chief Designer, Bob Madeley, remembers the Whessoe Press
His role in the design, memories of its operation, and shadow graphs...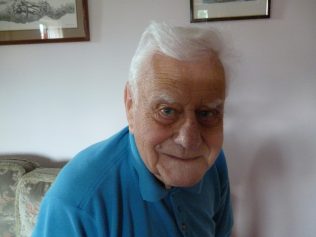 Bob remembers the design and operation of the Whessoe Press
Bob went up to Whessoe in the early days when he was involved in quoting for the press and after, when the order had been placed, to discuss the design features on the press.
The press was the largest table-sized press in the country. It was built specifically for pressing the plates for the atomic reactor vessel at Dounreay in Scotland. The spherical vessel was 135ft in diameter and it was built up from pressed plates, just like the segments of an orange. The Whessoe Press was made to press the plates, which were then profiled to the correct shape and shipped to Scotland where they were welded into position.  The heaviest plate must've been in the region of 15 tons because they were 28ft x 10ft and four inches thick.
In this clip he recalls his role in the design of the press and recalls the operation of the press.
"One thing I do remember was how they marked the plate to cut it to the correct shape … Whessoe built a very tall tower: at the bottom of the tower they put the plate that had to be marked off, and at the top of the tower there was a light.  And just below the light, they'd cut a profile of the shape to be cut from a very small diameter and, depending on where this piece was put, the light shone down and the shadow came onto the plate at the bottom and gave you the exact shape that the plate had to be cut to.  I always remember that, they called it a shadow graph"
Click on the hyperlink to see "The Whessoe Story", a film tracing the design and construction of the press, in which Bob appears!
Click on the hyperlink to listen to more of Bob's memories of joining and working at Fielding and Platt.