1600 ton Horizontal Extrusion Press, Number 9, O/No. E83130, c.1973
Order E83130 for Alcan, Banbury, 1973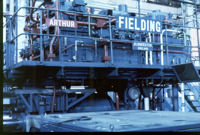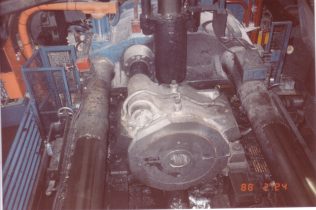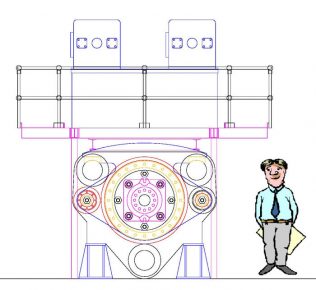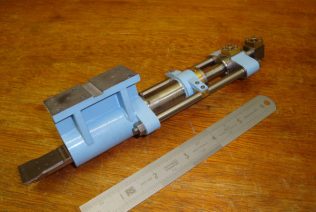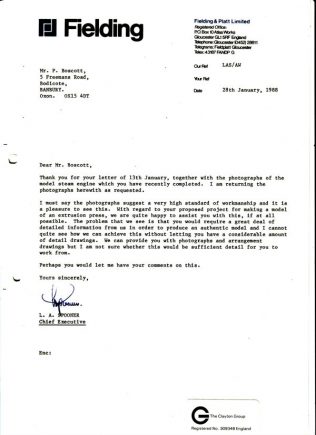 The press known at Alcan as Number 9 Press, being the ninth press on the site on its installation in 1969, was fitted with 3 Oilgear D500 variable delivery pumps driven by English Electric 200 HP 3 phase motors.
Control System
The control system at this time was relays with the pumps using a LVDT feed back for pressure an volume. A Banyard induction heater, Edwards pullers, off-loading/cooling table, stretcher and saw table.
The photographs
The first pictures I have were taken in 1977 on an open day for the Queen's Silver Jubilee. At that time, cameras were not allow on site and would have meant instant dismissal for gross misconduct to have taken pictures on a working shift. But the open day was a press day and many of the company's confidential processes had been put out of the way.
The main bulk of the detailed pictures were taken in 1988 after I had left Alcan. I obtained special written permission from the Works' Electrical Engineer and was closely accompanied by him thought out my visit. I also obtained from Fielding and Platt six outline drawings of the press' top arrangement.
At that time I thought this information would be sufficient to make a good 1:12 scale model. With the knowledge I have now it is not and I am looking for more detail.
If you can help Paul with information, photographs, or drawings so that he can complete his 1:12 scale model of the 1600 ton Extrusion Press click on the hyperlink to send him a message on our message board.
For more information on Paul's project please visit www.boscott.co.uk