Alan Jay's memories of working on CEGEDUR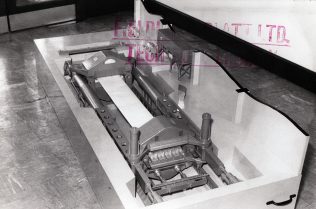 I started with Fielding's in 1957 as an office boy then into Craft School in '58 and a whole new life, first with Bert Ravenhill, who was a good man and instructor (he kept you on your toes all day long – but that is part of training!)
As an apprentice I worked there right through till the completion of the press, firstly with Tony Barton then with Victor Haltham who were skilled fitters. Another apprentice was Noddy Bennett, but there were others to help things along.
From memory there was only myself and Derrick Bennet as apprentices on the CEGEDUR job. The first time over there we flew from Heathrow to Orly then South on a smaller aircraft to Clermont Ferrand then 22km by road to Issoire. We all stayed at the Hotel Terminus (near the station!) and it took a few days to educate the landlady to cook an English breakfast, not a coffee and croissant which was no good for a hard day's work! Then we would walk to work (which took about half an hour) until, a bit later, the company gave us a mini van, which made life easier!
Then came that bad winter. It was the worst winter in one hundred years, -14F most mornings! All the roads were shut, but the French government gave us priority for any transport needed, which, they did when we moved the 4 big castings from the port at the Channel down through the centre of France to Issoire. It even had the French news teams on site showing the heavy life gang (French-Italian) moving these big parts for us. And to make it more important we were on a very heavy penalty to finish in the time given, which we did within two weeks of the date given, but we all worked 12 hour shifts, 7 days a week, and only came home every 6 weeks.
Life on site was chilly. We had 44 gallon oil drums around the pit burning all the packing cases and the big castings, when you had to work on them, would freeze your hands on to the steel.
The hotel Turminus was, as I said, in front of the main Issoire railway station. It would be classed as a 2 or 3 star hotel with a front bar (cafe). To the left was the restaurant for breakfast and evening meal. If we had time we would walk up past the cathedral up into the square and sample the local wine (at one nuva franc per litre in those days = one shilling and sixpence) or we would stay at the hotel and play cards.
Since leaving Fielding and Platt in 1962-3, I have traveled the world but not seen an apprenticeship as good as this one – a great bunch of guys and great engineers as well.
Follow this link to read more memories of the Jay family.