Programme of events in 2019/20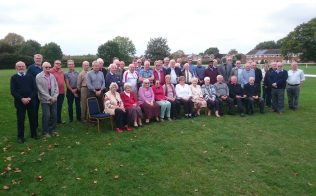 A note for the 2020 diaries!
Another Coffee Morning is scheduled for Saturday, 7th March 2020, to be held again in the Dunrossil Centre of the Heritage Hub. All former employees welcome.  Further details will be posted in the New Year.
The Annual Reunion is scheduled once again for Saturday, 8th August 2020, at Hardwicke Village Hall.  (Postponed due to the Covid-19 pandemic).
************************
The programme of events for 2019 was completed successfully.
A Staff Reunion was held again at Hardwicke Village Hall on Saturday, 5th October 2019.  Notes of the event and some photos are available by opening this link.
A Coffee morning  was held for former staff in the Dunrossil Centre at the Heritage Hub, off Alvin St, on Saturday 2 March.  Some 50+ former employees attended this drop-in event between 10.00 and 13.00.  Free coffee, tea and biscuits were available and the day was enjoyed by all. Generous donations were made that will help fund future Staff Reunion  events.
Yet another example of our close relationship with Gloucestershire Archives is that the Archives displayed the wall mounted exhibition which was first displayed at the Gloucester Life Museum as part of our 150th Anniversary celebrations.