REUNION, HELD ON 2nd SEPTEMBER.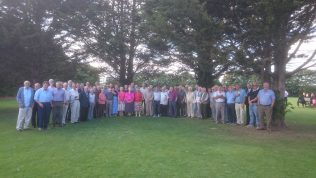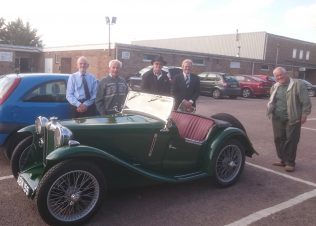 The Heritage Group once again organised a 'get together' for ex-employees and their partners. It took place at Walls Club, Hammond Way, Barnwood,  between 2pm and 5pm.  Ollie Taylor welcomed everyone and gave thanks to the organisers. Those attending numbered approximately 100, a little down on last year, but sufficient to make the event a success. The oldest colleague in attendance was Lionel Lane, who will be 100 next January; built to last, like the products manufactured by the Company!! The oldest car in attendance was a 1936 MG driven by its owner, John Browning.
The usual photographic display was set up. Orders were taken for three of these, namely Sudbrook Crossing (in colour), an aerial view of the F & P site and the group photograph of the 2016 reunion, all at A4 size, priced at £1.50 each, plus postage if required.
An excellent buffet was provided by the Walls staff, for which we are extremely grateful.   Dulcie Adams looked after the 'signing in' book and Janet Davis took orders and served  tea and coffee.  The collection bucket  for donations towards funding future events was circulated by Lorraine Tidmarsh and Margaret Clifton, (née Hancock); grateful thanks to all four.
Brian Mince read out the names of colleagues who had died since last year. They were Margaret Yardley, Garfield James, Pete Wood, Les Wheeler, John Ansley, Reg Gregory, George Holland, Bert Hindle and Mrs Bill Reading.  A few moments silence was then observed.  A few days later it was learnt that George Hayward had also passed away.
If you attended the reunion and would like to comment about it, or make suggestions for future reunions, then please click on the words 'Add a comment about this page' below.