GLOUCESTER RETRO DAY, SATURDAY 26th AUGUST.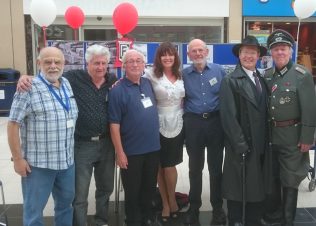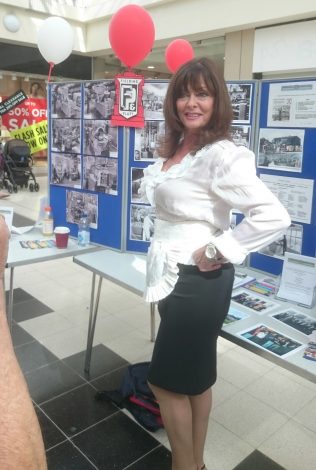 F & P Heritage Group  were once again pleased to be allocated space at the Kings Square end of Kings Walk to display our collection of photographs. This allocation was not in a favourable position, so we took the liberty of moving into a more advantageous area.
As in the previous year, much interest was shown, some from ex-employees, some from the relatives of ex-employees and from the public generally. Balloons bearing the F & P logo were available for the younger generation. Our forthcoming reunion on September 2nd was advertised and a collection bucket was in place to receive donations towards future events.
Proceedings commenced at 10.00 am and ended at 5pm. Just before closure we were visited by three members of the 'Allo, 'Allo television series, namely Yvette, Herr Flick and Lt. Gruber, alias Vicki Michelle, Richard Gibson and Guy Siner. They proved to be a very friendly trio, willing to talk, and be photographed, even after what must have been a very tiring tour of the city. They were ably chaperoned by Councillor Colin Organ, himself an ex-employee of F & P.  The display was manned by Brian Mince, Derek Tidmarsh, Jeff Hogg, John Davis and Paul Evans (part time).
If you would like to make any comments regarding this article, then please click on the words at the bottom of the page Add a comment about this page.