Official unveiling of historic blue plaques at Gloucester Quays
Friday 7 March 2014, 2.00pm-5.00pm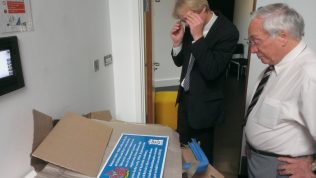 On Friday 7 March 2014, two historic blue plaques commemorating the site of Fielding and Platt's Atlas Works one of Gloucester's pioneering engineering firms were unveiled at Gloucester Quays Designer Outlet by two former employees.
Thanks to Gloucester City Council, Gloucester Historic Buildings Ltd, and Gloucester Quays, the blue plaques commemorate the heritage of the site and ensure that it will not be forgotten by future generations.
The unveiling ceremony occurred at 2.00pm on Friday 7 March in the Gloucester Quays Designer Outlet.  
After the unveiling there was a celebration for all former Fielding and Platt employees in the Phillip's Suite in the North Warehouse at Gloucester Docks between 3.00-5.00pm.
"Fielding and Platt launched the careers of hundreds of engineers from Gloucester.  It is a company dear to the hearts of many in the city and beyond.  Former employees and visitors to the Quays will now be able to see that the legacy of the company is not forgotten." – Ollie Taylor