Programme of events in 2019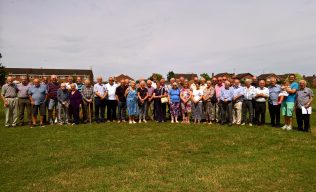 The full programme is still under construction, but is likely to be slimmed down this year, as we're not planning to attend the Retro Day, or to contribute an event to the Gloucester History Festival.
A note for your diaries!  Arrangements are now confirmed for another Staff Reunion, again at Hardwicke Village Hall on Saturday, 5th October 2019.  Further details will be posted nearer the time but in the meantime, please let others know.
The 2018 Gloucestershire Heritage Hub (aka Gloucestershire Archives) Open Day was attended by over 400 people, including several former F&P employees.  John Davis and Brian Mince were on hand to talk to attendees and show the Fieldings display, and this was well received.  The Heritage Hub is planning a Garden Party on Sunday 8th September, and we may have a presence again.  All former employees are welcome to attend, as we mark again our close working relationship with the Archives.  Times and other details will appear here when they are confirmed.
Yet another example of our close relationship with Gloucestershire Archives is that the Archives is currently displaying the wall mounted exhibition which was first displayed at the Gloucester Life Museum as part of our 150th Anniversary celebrations.  It's not confirmed yet how many weeks the exhibition will be on view, but it will definitely remain on display into July.  You can see it at the Archives without appointment and at no cost between 9am and 4.30pm any day Monday – Friday.  Please note that the Archives remains a building site, and parking is only available at the rear of the building.  Please take care when navigating the site.
A Coffee morning  was held for former staff in the Dunrossil Centre at the Heritage Hub, off Alvin St, on Saturday 2 March.  Some 50+ former employees attended this drop-in event between 10.00 and 13.00.  Free coffee, tea and biscuits were available and the day was enjoyed by all. Generous donations were made that will help fund future Staff Reunion  events.
We hope to see you later in the year, at the Reunion.