Programme of events in 2019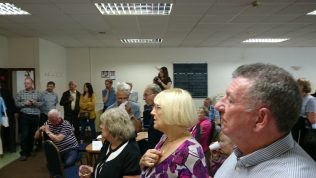 The full programme is still under construction, but is likely to be slimmed down this year, as we're not planning to attend the Retro Day, or to contribute an event to the Gloucester History Festival.
The 2018 Gloucestershire Heritage Hub (aka Gloucestershire Archives) Open Day was attended by over 400 people, including several former F&P employees.  John Davis and Brian Mince were on hand to talk to attendees and show the Fieldings display, and this was well received.  It's understood that there will be a  similar Open Day in 2019, although the date has yet to be confirmed, and we hope to attend again.
There will also be another Staff reunion, hopefully again at Hardwicke Village Hall, although the date has yet to be confirmed.  Watch this page for updates.
We can now confirm one event that's definitely in our calendar, and that's a Coffee morning  for former staff in the Dunrossil Centre at the Heritage Hub off Alvin St (the Hub is signposted) on Saturday 2 March.  This will be a drop in event between 10.00 and 13.00.  We hope that onsite parking will be available, but the Hub remains partially a building site, so please check out this page nearer the time for confirmation of this.  The Coffee morning is free, but there will be an opportunity to make a donation towards the costs of the Staff reunion.
We hope to see you at the Coffee morning and, later in the year, at the Reunion.